Tattered firecracker wrappers litter the vacant lot below our yard
where last night grown men acted out their pyrotechnic fantasies.
Along the curb, neighbors wheel their city-issued garbage bins
full today of cans and bottles, paper plates, watermelon rinds.

Leftovers reassigned to plastic bowls fill every space in the fridge,
yesterday's feast, tonight's leftovers, and guest room towels and sheets
cover the laundry room floor. Our kids and their kids have driven away,
waving until out of sight. Meanwhile, our neighbors fish
plastic margarita glasses out of their pool.

But for a few minutes, gazing out of our window to the river,
I ignore today's grey skies and the long-awaited rain. Instead,
I have flashbacks to last night's sights—
an armada of pontoons and ski boats, each a pinpoint of light,
taking in illegal backyard fireworks projected on the canvas of the sky
along both shores as far as anyone could see
until the Star-Spangled Banner gave way to Smoke on the Water,
a private joke between a few hundred of our closest friends.


© by Nancy Posey.
Used with the author's permission.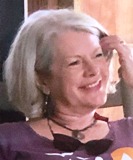 Nancy Posey's poetry and book reviews have appeared in a number of publications. After living in Hickory, North Carolina for many years, she moved to Nashville in 2016 to be closer to her grandchildren. A native of Alabama and a former high school teacher, she currently serves as an adjunct professor at Lipscomb University and co-hosts a monthly open mic. Nancy, who plays mandolin and sings with a faculty band called The Low Expectations, also writes for Music City Music Magazine.
MLove:
LOVE IT
Posted 07/06/2020 01:53 PM
Lori Levy:
Great depiction of the day after.
Posted 07/05/2020 03:29 PM
paradea:
I remember your house on Lake Hickory and can see it all in this poem!! Good one, Nancy. We miss you in these parts!!!
Posted 07/05/2020 11:08 AM
Jancan:
Oh, yes, after the festivities comes clean up. I remember that song! I enjoyed this descriptive poem.
Posted 07/05/2020 10:48 AM
MatthewMiller:
Love these great descriptions!
Posted 07/05/2020 10:38 AM
Cathy's Sister:
Fireworks projected on the canvas of the sky! Great, relatable poem!
Posted 07/05/2020 10:16 AM