I really hate to boast
but when I eat my toast,
I shape the greatest things
like birds with spreading wings,
a giant bumble bee,
sometimes a Christmas tree:
creative works of art
that come and then depart
in tiny little bites.
Such magical delights
begin my every day
in just this special way.


From Collected Poems (CreateSpace, 2016).
Used here with permission.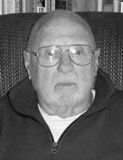 Cornelius Farrell Kelly wrote his first poem at age 12 when he fell in love with the girl across the street and put his work in her mailbox. She showed it to all of the neighbors, and Cornelius became the poet laureate of his block. Influenced early on by the poetry of Edgar Guest, Cornelius is the author of eight chapbooks, is involved with several poetry organizations, and publishes regularly. He is also a competitive swimmer. Cornelius lives in Pinedale, Wyoming.
Wilda Morris:
I think I will try this!
Posted 07/08/2020 11:21 AM
Lori Levy:
Like the humor in this poem.
Posted 07/06/2020 08:23 PM
cork:
I wrote this poem for children.
Posted 07/06/2020 01:43 PM
Anastasia:
What a fun start to the day! Thank you!
Posted 07/06/2020 01:02 PM
Janet Leahy:
This poem proves poetry can come from any experience, how many of us will be fashioning some image from our toast tomorrow morning.
Posted 07/06/2020 12:57 PM
Kbc:
Love this cute little poem! Makes a morning fun! And, so GLAD to see this site back up and running! Thank you!
Posted 07/06/2020 12:28 PM
KevinArnold:
Fun indeed.
Posted 07/06/2020 11:33 AM
paradea:
Love this!! Will recite it to my great-grandchildren!!
Posted 07/06/2020 11:12 AM
Sharon Waller Knutson:
I loved this funny little rhyme. Perfect for kids from three to ninety three.
Posted 07/06/2020 11:11 AM
Larry Schug:
I love making fruit faces on pancakes-straberry eyes, an apple slice nose, a smiling melon mouth. Can't wait to see what I can do to my toast this morning. Thanks for the tip. Oh yeah, cool poem, C.F.
Posted 07/06/2020 07:40 AM
mail@schoolbusmart.com:
For me, it?s just burnt bread instead. Enjoyed your poem as I got out of bed. Randy
Posted 07/06/2020 07:13 AM
bobbi43sml@aol.com:
This just tickles my fancy. ( and I also LOVE toast). Year twelve was my start in poetry as well, but I fell in love with a place, rather than the boy next door. Love your inspiration.
Posted 07/06/2020 07:10 AM