I can always tell when they've been at it,
by the small limbs and clumps of leaves
strewn randomly about, like a poet
discarding drafts of poems he doesn't like.

I shake my fist complaining,
"You're killing my trees, ransacking
the yard, raiding the bird-feeder, making
life miserable for cardinals and finches."

Then, later in the season, I crane my neck
toward the treetops, and spy five brown tails
dangling from the nest, like they were meant
to be there, like they had a right to be there.

I wonder why I hate them so, maybe I should
rethink that . . . after all, am I not just like them?
Trying to get along in life, doing the best I can
to build a nest in which to cherish those I love?


© by Michael Escoubas.
Used with the author's permission.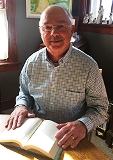 Michael began writing poetry for publication in August of 2013, after retiring from a 48-year-career in the printing industry. He writes poetry because, early in life, his mother encouraged him. Michael also writes poetry because he believes poetry brings people together and that poets are menders of broken things. Michael is the author of three collections--Light Comes Softly, Monet in Poetry and Paint. and his most recent, Steve Henderson in Poetry and Paint.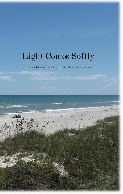 Anastasia:
After a bumpy start when we first moved to this house, I have achieved a peaceful co-existence with the squirrels?the key was to give them their own feeder so they left the bird feeders alone!
Posted 07/15/2020 11:14 PM
Jancan:
I REALLY like this poem--especially the end.
Posted 07/09/2020 04:13 PM
Wilda Morris:
Wonderful, Michael. In winter, I enjoy watching the squirrels chasing through the bare branches of the trees out my back window.
Posted 07/08/2020 11:20 AM
Lori Levy:
Great ending, especially for someone like me who isn't crazy about squirrels.
Posted 07/08/2020 12:18 AM
DavidTookey:
All great artists tell us to watch nature. What a beautiful, reflective poem. I love how the last stanza ties everything together in such a wonderful way. Bravo Michael!
Posted 07/07/2020 07:58 PM
barbsteff:
I like squirrels and this poem. What's not to like? They amuse me, running along our backyard fence, and I've written apoem or two about them.
Posted 07/07/2020 05:42 PM
michael escoubas:
Appreciate all my fellow poets' comments! You have brought out nuances in "my" writing that even I didn't know were there!! Thank you.
Posted 07/07/2020 02:35 PM
BAMars:
Very nice -- I tend to like all creatures. They tend to just do what they do without sinister motives, unlike some humans.I can also identify with the scattering of rejected drafts! Fun image!
Posted 07/07/2020 02:30 PM
William Marr:
I always believe having deep empathy for all living things is one of the basic qualities of a good poet. You've got it, Michael!
Posted 07/07/2020 12:36 PM
CamilleBalla:
This poem has that quality of looking at things in a new way.. I don?t like squirrels and see them everyday in my yard, Your words, I crane my neck toward the treetops,?and I so that ?stood out as very creative. Very good poem, Michael.
Posted 07/07/2020 12:08 PM
Arlene Gay Levine:
Yes, Michael...it is all about Love after all. Good poem, good reminder in these difficult times.
Posted 07/07/2020 11:08 AM
peggy.turnbull:
It's like we're the intruders, right? Still, we fight them. Excellent poem, made me think differently.
Posted 07/07/2020 11:00 AM
Jean Colonomos-1:
I love your writing, Michael, so graceful and full of grace.
Posted 07/07/2020 10:12 AM
mail@schoolbusmart.com:
...like: like a poet discarding drafts of poems he doesn?t like. ... and the sentiment in the resty of the piece. Randy
Posted 07/07/2020 09:01 AM
MLove:
I love this poem. I too am making peace with squirrels wondering why I'm charmed by a birdie at the birdfeeder and annoyed by a squirrel there. Maybe the fact that the squirrel is actually eating the birdfeeder along with the seed has something to do with it :-)
Posted 07/07/2020 08:46 AM
Jccjccac@aol.com:
I love this Poem - I like squirrels too. But I wish they weren?t so indecisive when crossing a road.
Posted 07/07/2020 06:47 AM