I wondered if there were going to be anymore summers.†
††††††††††††††††††††††††††††††††††† --Patrick Modiano
†
It will be summer eventually
but not for several years.
No ice cream trucks, no baseball games,
no jostling crowds that cheer.

No blankets spread upon the sand,
no gaily striped beach towels.
No breezes full of salt-sea air
no surfers in the swells.

No amusement parks, no midway
lights, no hot dogs, cotton candy.
No fireworks dazzling on the fourth,
no children getting sandy.

But fireflies will decorate
each tiny blade of grass,
and the moon in July will flood the sky;
some day this will pass.

Until then, may tomatoes swell
until they fit your hands.
May peaches fill with juice and sun
in Mason jarís gold bands.



© by Barbara Crooker.
Used with the authorís permission.
†
†
†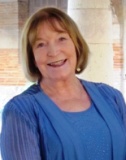 Barbara Crooker's award-winning poems have appeared in numerous magazines, journals, and anthologies and have been featured on the BBC, the ABC (Australian Broadcasting Company), The Writer's Almanac, and in the Poetry at Noon series at the Library of Congress. Recipient of many fellowships and residencies in the U.S., as well as in Ireland and France, she was also a Grammy finalist for her part in the audio version of the popular anthology, Grow Old Along with Me--the Best is Yet to Be. Barbara lives in Fogelsville, Pennsylvania; her latest book is Some Glad Morning, just released from the University of Pittsburgh Press. Learn more about Barbara at www.barbaracrooker.com.
Anastasia:
Peaches! Peaches are my favorite thing about summer. Thank you for a hopeful poem!
Posted 07/12/2020 03:49 PM
Maren O. Mitchell:
A tasty poem by one of my favorite poets. Thank you!
Posted 07/12/2020 02:20 PM
Lori Levy:
Love the rhyme in this poem and the beauty, especially in the last 2 stanzas.
Posted 07/12/2020 02:02 PM
Ronaccount:
This is an anthem. Thanks
Posted 07/12/2020 11:25 AM
Jean Colonomos-1:
I too love Barbara Crooker poems. They make me want to sing in a minor and major key.
Posted 07/12/2020 10:34 AM
Sharon Waller Knutson:
I love Barbara Crooker poems. The last stanza made my day. Until then, may tomatoes swell until they fit your hands. May peaches fill with juice and sun in Mason jar?s gold bands.
Posted 07/12/2020 09:46 AM
cork:
In troubled times we see greatness in little things.
Posted 07/12/2020 09:36 AM
michael escoubas:
This must be why God made poets, Barbara; only poets address tragic times with such eloquence. Just what we need; thank you.
Posted 07/12/2020 09:13 AM
Larry Schug:
Summer, like life, is what you make it.
Posted 07/12/2020 06:46 AM