Ours was a typical neighborhood
where children played ball
during the long, summer evenings.
The funeral home played catcher.
When we struck out,
our outs bounced off the bricks.
The prison was our outfield wall,
and the prisoners played with us.
Their home plate faced east;
ours faced west.
We shared the outfield
except for the wall in the middle.
Home runs escaped into our yard,
and we turned and fielded hard balls
although we played softball.
We always played softball
and never hit home runs over the wall,
but we kept the hard balls
in a cardboard box in the entry
where our cocker spaniel slept.
I guess you could say
the state subsidized my childhood.


This poem first appeared in Snakeskin.
Used here with the authorís permission.

†
†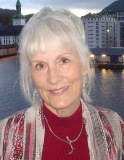 Joan Wiese Johannes is retired from a rewarding and challenging career as an English teacher. The author of several poetry collections, she also composes music for Native American-style flute and includes it with her poetry readings. Joan believes that Thornton Wilder was right when he wrote that "only poets and saints truly appreciate life while they are living it." Hardly a saint, Joan appreciates the life she shares with her poet/artist husband, Jeffrey, in Port Edwards, Wisconsin. Learn more about her at http://bookthatpoet.com/poets/johannes.html.
Lori Levy:
Unusual, powerful poem.
Posted 07/11/2020 03:37 PM
Sarah Russell:
What a wonderful peek at your unique childhood. Loved the innocent ?normality? of the neighborhood.
Posted 07/11/2020 11:56 AM
Sharon Waller Knutson:
I was fascinated with this picturesque poem from the title to the ending. It makes me think that how and where we grew up influences our thinking and how we live our lives when we become adults.
Posted 07/11/2020 08:39 AM
michael escoubas:
Quite a unique poem, Joan--few of us grow up sandwiched between a prison and a funeral home--making great poems about such things illustrates the truth of Wilder's insight!
Posted 07/11/2020 08:08 AM
Larry Schug:
An interesting premise, loaded with metaphor, that could go in many directions.
Posted 07/11/2020 07:38 AM