John Mason it was, who left us this gift:
a cup, a vase, a clear sarcophagus
for dragonflies or the smooth stones
we pluck from the beach. We may fill it with flowers.
The daisies hang their heavy heads
over the sides, bending down
to peer through the glass at their own spindly stems.

When we drink sweet tea straight from the jar
we remember to savor this moment,
to thank one another kindly,
to sit down while we sip.

Piccadilly, peaches, tomatoes, succotash:
this seal is meant to be broken.
Release the aroma of summer fruit,
the memories of picking, peeling, pickling,
the hot water bath in a steamy kitchen.

We preserve the jam and we save the jars,
using them again and again,
cycling through the years and the seasons,
boxes of jars lining the cellar shelves
in our grandmother's house
where we long to return.

Let us praise this humble flask which contains
what we seek:
clarity and preservation.
For it is meant to be filled,
not halfway, but all the way,
to the brim,
to the seal,
to the lip we kiss with our own.

From Hand on My Heart (New Wind Publishing, 2019).
Used with permission.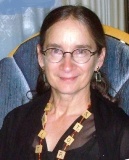 Anara Guard grew up in the Midwest, lived in New England, and now resides in California. She has worked in a small-town public library and on national projects related to injury prevention and public health topics. Anara is the author of two collections of short stories, The Sound of One Body and Remedies for Hunger, and one collection of poetry, Hand on My Heart. Learn more about her at www.anaraguard.com.
Wilda Morris:
Wonderful tribute to the Mason jar and its creator.
Posted 07/21/2020 04:20 PM
Jancan:
This is a wonderful, descriptive tribute to the one who gave us Mason jars--containers of good things in life. Good use of personification.
Posted 07/20/2020 10:55 AM
Ronaccount:
Loved how the jar was a final resting place, a vase, and a celebratory vessel. Lips sealed it. Well done.
Posted 07/17/2020 04:59 PM
cork:
On my grandmother's cellar shelves I searched for tomato preserves.
Posted 07/17/2020 09:02 AM
michael escoubas:
I love a restaurant just across the Illinois border into Iowa, "The Machine Shed," which serves its beverages in Mason jars. So many uses, the best of which you chronicle in your poem Anara.
Posted 07/17/2020 08:20 AM
Sharon Waller Knutson:
Well crafted nostalgia poem. I remember sipping ice tea out of a Mason jar in a restaurant in San Francisco in the 70s.
Posted 07/17/2020 08:15 AM
Larry Schug:
Each verse could be a poem on it's own (with a bit of editing, of course). The last lines in each verse are just perfect. After a number of readings I found I could pluck lines from each verse and put them together into new poems, such is the attention put into each.
Posted 07/17/2020 08:06 AM