I can't understand staged houses
Planned around neutral, lifeless beige.
Red, the color of life giving serum,
Pumps through my house,
Keeping it alive.
The lively color embraces,
Like friends and happy times.
Fresh as vine-ripened tomatoes,
Red evokes fire, warmth,
And sunsets of contentment.
Passionate red seats you on warm red leather.
Red Chinese cabinet stores linens.
Red Asian rug softens your step.
Red roses dotted with baby's breath
Punctuate the glass table,
Reminding one of love shared between its occupants.
Red boldly states,
"Come in, let's have some fun,
Welcome……a glass of red wine?"


© by Lynn Mergen.
Used with the author's permission.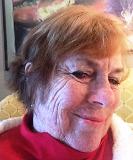 Lynn Mergen has been writing for years, but she didn't begin seriously studying the craft until a few years ago. She grew up in California but moved to Colorado to attend college, where she met the love of her life. Home is now in Evergreen, but they have traveled to many interesting places over the years. Lynn enjoys painting, entertaining, her grandchildren, and laughing with family and friends. Her work has appeared in two anthologies.
Jancan:
This lovely poem describes much more than home decor. This is exuberant celebration of life.
Posted 07/20/2020 11:02 AM
Anastasia:
A good approach to life!
Posted 07/16/2020 03:39 PM
Lori Levy:
Great! Love the warmth this evokes.
Posted 07/16/2020 03:05 PM
Jccjccac@aol.com:
I want to come over to your house!!
Posted 07/16/2020 10:35 AM
Jean Colonomos-1:
I'll drink to that!
Posted 07/16/2020 09:50 AM
paradea:
None of that 'stage' beige stuff for me!!! Anything is possible with primary colors. Love this poem!!
Posted 07/16/2020 09:41 AM
michael escoubas:
Good morning, Lynn, wonderful take on your subject! So many associations with the color red streamed into a nicely cadenced piece. This is a truly an original composition. Thank you.
Posted 07/16/2020 08:36 AM