Because we waste not, when gooseberries
dangle from our fence, I harvest the sour spheres,
eager to can. My husband toils alone inside,
ticks numbers off a spreadsheet. Our child

skips in circles, gyrates to peepers bellowing
in the violet evening. I tell him fairies dance
between the roots of our ancient pine. I want
to give him a world suffused with awe.

We travel to old growth forests, waterfalls
and rivers, seek the magic of summer hail,
the loon's cry. For a trace of time we are earth's
acolytes, tending to tomatoes, savoring pears.

Come out, Dad, our son shrieks. We hear a chair
scrape against the bare floor, the screen door squeak.
The night ratchets up in happiness. And creation,
bringer of our abundance—how to bless it in return?


© by Margaret Coombs.
Used with the author's permission.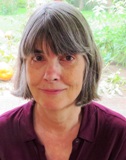 Margaret Coombs, formerly known as Peggy Turnbull, is a retired academic librarian who lives in the city of her birth, Manitowoc, Wisconsin. After four decades away, she and her husband moved back to live near four generations of her family. Margaret recently changed her writing name to her birth name as a way to connect with the literary dreams that she had as a child. Her chapbook, The Joy of Their Holiness, was published in 2020 by Kelsay Press. Learn more about Margaret here.
Wilda Morris:
"For a trace of time we are earth?s / acolytes." That is my favorite phrase in this joyous poem. Thank you!
Posted 07/21/2020 04:16 PM
Jancan:
You have vividly described something wonderful--everyday life playing out.
Posted 07/20/2020 10:52 AM
Anastasia:
You have found such lovely poetry in seemingly small moments?thank you for this bit of peace and joy.
Posted 07/19/2020 06:19 PM
Lori Levy:
Beautiful language.
Posted 07/19/2020 05:58 PM
Jo:
beautiful and caring poem.
Posted 07/19/2020 03:44 PM
BAMars:
A perfect childhood and a beautiful poem.
Posted 07/19/2020 01:39 PM
joecot:
This poem is a blessing.
Posted 07/19/2020 11:59 AM
DELINDMAN:
Beautiful, real and profound. I'm saving this one.
Posted 07/19/2020 11:42 AM
Jean Colonomos-1:
So graceful, so the reminder of awe. Thank you.
Posted 07/19/2020 10:52 AM
peninsulapoet:
Lovely poem.
Posted 07/19/2020 09:43 AM
jeeger:
Perfect!
Posted 07/19/2020 08:47 AM
Larry Schug:
But bless nature and ourselves we must.
Posted 07/19/2020 07:51 AM
beatingheart:
If we don't take care of our home, the earth, who will?
Posted 07/19/2020 06:36 AM