After John Gillespie Magee, Jr.
†
I was schooled to cower
under the shelter of
my wooden school desk
to hide from fallout
raining from the sky
in blasts brighter
than the noonday sun
raising umbrella clouds
to announce the end of days
†
But for one July evening
I lay under a clear night sky
in a field damp with cleansing dew
while man walked far above
on a waxing crescent promise
that we might someday
rise high enough to look down
upon our own self-destruction
and perhaps once more
to touch the heart of God


© by Randy Cadenhead.
Used with the authorís permission.
†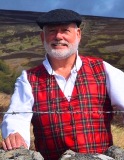 Randy Cadenhead is the author of four books, the most recent being The Funny Thing About a Poem. Although he teaches at Emory Law School, you are more likely to find him sailing somewhere in search of the perfect sunset. Randy lives in Decatur, Georgia; learn more about him at www.randycadenhead.com.
Wilda Morris:
Thank you for this expression of hope despite human self-destruction!
Posted 07/21/2020 04:13 PM
jmilfordtv:
Thank you for most hopeful look forward.
Posted 07/20/2020 05:34 PM
Anastasia:
Eloquent and hopeful. Thank you, Randy.
Posted 07/20/2020 03:57 PM
Lori Levy:
I also especially liked the line about rising high enough to look down on our own self-destruction.
Posted 07/20/2020 02:47 PM
Janet Leahy:
May your poem wake us to look at our own self-destruction. Thanks Randy.
Posted 07/20/2020 02:19 PM
Arlene Gay Levine:
Thank you, Randy, for this heart-opening poem.
Posted 07/20/2020 01:57 PM
Mail@schoolbusmart.com:
Great poem... I particularly liked (after the feeling of lying on a field damp with the cleansing dew), your lines of "...we might someday rise high enough to look down upon our own self-destruction." May we always look down upon our own self-destruction. From another Randy
Posted 07/20/2020 01:36 PM
michael escoubas:
Wonderful commemorative poem with a and sharp and clear message . . . we need to have ears to hear!
Posted 07/20/2020 10:50 AM
Jancan:
This poem is vividly descriptive, moving, and thought-provoking.
Posted 07/20/2020 10:50 AM
Cathyís Sister:
Enjoyed this poem, especially the ending - Touch the heart of God
Posted 07/20/2020 10:42 AM
KevinArnold:
What a delectable poem. A poem of my generation. I can taste it--sweet-sour, delicious.
Posted 07/20/2020 09:13 AM
DELINDMAN:
Wonderful! I, too, hid beneath desks while a young school boy and later watched us populate the moon; both awesome experiences that have lasted in memory. You've expressed them so beautifully!
Posted 07/20/2020 08:45 AM
laurenepersons:
In a world of active shooter drills, deep political divides, a raging pandemic, racial inequities, etc. this poem reminds me that science, imagination, dreams, innovation, community are still possible. Thank you, Randy.
Posted 07/20/2020 07:18 AM