Stationed with binoculars,
we watch fear and parental anxiety
perform outside our window.
Every year they come to our boxes,
and every year we wait and watch.
If my daughter calls, I say: "Can't talk;
we're watching swallows fledge."
"You're what?" she said the first time.
I used to make up excuses. Not now.

The first one zips out
and disappears into the glaring sky.
Others poke out sleek heads,
while nervous parents fly round
and round to show them how to do it.
Swoop, guys. Lean out. Flap.
Always there's a slow one
who won't come outóit tips
from the box, not daring to fly
and then, like a miracle,
it catches the air and is gone.


© by Diane Stone.
Used with the authorís permission.
†
.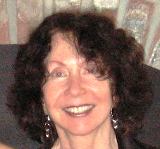 Diane Stone, a former technical writer-editor, lives on Whidbey Island, north of Seattle, Washington, with her husband, cat, and hens. Her work has been published in poetry journals and anthologies. Diane credits her grandfather for her early interest in poetry; he taught her that poetry happens everywhere, and he recited his favorite poems even when they were fishing.
†
†
Anastasia:
We have mourning doves, and it's quite the process to watch! You've captured it so well!
Posted 07/22/2020 01:43 PM
Lori Levy:
Love the line about watching the swallows fledge when your daughter calls.
Posted 07/22/2020 12:02 AM
Wilda Morris:
Robins nest on a light fixture on our front porch, so I can identify - except that I cannot watch the fledging from inside the house. But isn't the parent anxiety much like our own when our "babies" fledge? Excellent poem.
Posted 07/21/2020 04:11 PM
KevinArnold:
She pays homage to the breadth of the English language.
Posted 07/21/2020 10:54 AM
Janet Leahy:
I want to applaud when that last one finally takes to the sky, great last line, "it catches the air and is gone."
Posted 07/21/2020 09:53 AM
cork:
I just walked to the window to see if any swallows were fledging. They were not.
Posted 07/21/2020 08:48 AM
Sharon Waller Knutson:
I related to this well crafted poem. I love the personification and bold description. It's fun to watch the crows, quail, does and even the javelina with their babies. I believe the wildlife are better parents than some humans.
Posted 07/21/2020 07:25 AM