Some things we wait and hope for, not knowing
if we're foolish to think that what we want
might be fulfilled. We're helpless in the face
of all that's unpredictable, of all
we can't control or even influence,
no matter how we bargain, hope and pray.
And so today, when the kingfisher's long-
awaited guttural trill reached my ears,
and I saw that big-headed flash of blue
above the creek where I walk every day,
I felt a sense of joy that both of us
are still alive. I chose to hear his call
as a greeting, to imagine that he
was also filled with gladness to see me.

 
Copyright © 2020 by Barbara Quick
Used here with permission.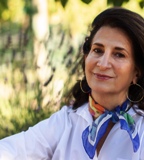 Photo credit: David Kim
Barbara Quick is a novelist, journalist, and poet. Her work has appeared in many magazines and journals, including the New York Times, Newsweek, People and Ms. Barbara's newest novel, What Disappears, set in the world of the Ballets Russes, is forthcoming from Regal House; her 2007 novel, Vivaldi's Virgins (HarperCollins), thus far translated into 12 languages,is now available in audiobook format. Barbara lives on a small farm in Sonoma County, California with her husband, Wayne Roden, a violist for the San Francisco Symphony and owner of a boutique wine business. An avid dancer, hiker, and nature lover, Barbara divides her time between writing and tending to her edible gardens. Learn more about her at www.barbaraquick.com.
Wilda Morris:
This tenderness toward nature is touching.
Posted 07/29/2020 04:22 PM
Lori Levy:
Beautiful!
Posted 07/28/2020 06:06 PM
CamilleBalla:
The greeting in the now, the choice, the awareness of the kingfisher? of ?what is?? would be unlikely without the lessons shared from the beginning lines of the poem. Beautiful, inspiring, a great meditation for today. Thank you, Barbara, and thanks to you, Jayne, for your daily poem!💡
Posted 07/28/2020 02:46 PM
bqwriter:
Thank you, Jayne--and thanks to all the wonderful readers who visit her site! Poetry is certainly needed more than ever, these days--and poets everywhere are grateful to people like Jayne, who are making poetry accessible far and wide on the Internet!
Posted 07/28/2020 02:17 PM
Anastasia:
So much of how we perceive things can be a choice! Wonderful poem, and amazing images.
Posted 07/28/2020 01:02 PM
KevinArnold:
Lots of choice here. Fun.
Posted 07/28/2020 10:15 AM
Jean Colonomos-1:
I'm with you toasting to being alive.
Posted 07/28/2020 09:56 AM
Larry Schug:
Lots of good stuff in this poem. Every line is a meditation of sorts. We have Kingfishers in the pond behind our house; I love to see them dive and come up with a minnow. (not so good for the minnow, in a human way of thinking, but it's the way it works). Thank you.
Posted 07/28/2020 08:37 AM
Sharon Waller Knutson:
A former journalist and nature lover, I relate to Barbara Quick's poetry. I love the image: Big headed flash of blue.
Posted 07/28/2020 07:38 AM