(for my mother, 1924-2016)

A badge of Southern womanhood,
feminine sign that you never gave up;
in a long life you never left the house without lipstick.

I loved the sleek tubes of color on your dressing table
before I was old enough to wear it--
Kiss Me Coral, Fire & Ice, Cherries in the Snow.
Watching you put it on, I marveled at your quick precision.

A painted mouth was adulthood, flirting, freedom
to experiment with the face you showed the world. 
You taught me to always carry lipstick in my purse
and how important it is even if you
don't have time for any other enhancement.

As your body failed and you gave up
so much that you loved,
every day you got up,
no matter how much of a struggle it was,
dressed in something lovely, put on perfume
and did your face.

At hospice two days before you died,
you opened your eyes from a doze
and said clearly to me and my sister, white-haired ourselves,
"You girls need to put some lipstick on."
The last thing you asked me to do
was to brush your abundant hair.

At the hotel that night my sister grumbled,
"I hope when I'm 92 I'm not vain, and don't care about
having my hair combed or someone putting lipstick on me."

I said, "I hope I do."

From Be There or Be Square.(Moon Pie Press, 2018).
Used here with permission.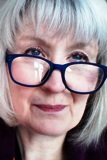 Alice N. Persons is the editor and publisher of Moon Pie Press, established in 2003, which publishes work by poets from all over the country and now has 119 books in its catalog. Author of five collections herself, Alice lives in Westbrook, Maine with two cats and a dog, all rescues, and serves on the board of the Animal Refuge League of Greater Portland. Alice loves painting, holidays, travel, baking, and Maine in all seasons.
AliceP:
Thanks for all your kind comments about my poem. My glamorous mom has been gone 5 years and I miss her. In this time of wearing masks, I think of how she wouldn?t like it that lipstick doesn?t show. I still put it on.
Posted 07/30/2020 09:53 AM
mail@schoolbusmart.com:
I don't wear lipstick, but I still want a shave. Bless you and your mother. I get it. At 93, I shaved my dad. Hope I get a close one, too, when I'm his age. Great poem. Randy
Posted 07/29/2020 05:15 PM
Lori Levy:
Love this poem!
Posted 07/29/2020 03:15 PM
LindaCrosfield:
Oh, this is lovely! My mom is 100 now and STILL puts it on with aplomb when it's handed to her. And I remember her coming into the travel agency I worked in, phones ringing, machines cranking out tickets, people at our desks, people waiting, and she'd eyeball me and mouth the word "lipstick" while mimicking the motion. Like I had time! Just a wonderful poem, Alice. Thanks.
Posted 07/29/2020 02:22 PM
plgoodman:
I hope I do too, Alice. Thanks for this beautiful moment. I, too, wore ?Cherries in the Snow?.
Posted 07/29/2020 01:57 PM
paradea:
My mother was beautiful, right to the end of her life. "Cherries in the Snow"!! Who wouldn't love that color? This is a wonderful poem!!!
Posted 07/29/2020 12:16 PM
michael escoubas:
What tender memories . . . this poem touches many (even one man) with its poignancy. Thank you Alice.
Posted 07/29/2020 11:06 AM
DELINDMAN:
The feeling and sentiment are nostalgic and lovely. It even draws this man into your experience. Love the structure, with almost every line having a meaning of its own and all but one stanza starting with a capital A. Thank you for a wonderful wakeup.
Posted 07/29/2020 10:43 AM
KevinArnold:
Yes, a southern pull . . .
Posted 07/29/2020 10:03 AM
cork:
I am reaching for my chapstick now.
Posted 07/29/2020 09:19 AM
SAR2126:
I hope I do too, and my sister would think I'm crazy. Lovely tribute and lovely poem.
Posted 07/29/2020 08:58 AM
Jean Colonomos-1:
Your poem moves me to think about my mother. She had different expressions of vanity but you touch on how loving the mother/daughter relationship can be.
Posted 07/29/2020 08:40 AM
Sharon Waller Knutson:
I love this poem. Alice, your mother was just like mine. My mother never let anyone see her without makeup and her favorite lipstick was Cover Girl's Coral Sunset. The night she died, her nurse's aid washed and put her hair on rollers and put on her coral lipstick.
Posted 07/29/2020 07:56 AM
Charly:
How I love this poem. Those lipstick shades were all my favorites. And you recalled those old names....what a tribute to your mother, thank you for this uplift poem.
Posted 07/29/2020 07:17 AM