Thereís not much left to do
this late in the day.
So I take myself to the porch
to sit,
and watch the grasses sway.

The breeze makes the hay
ripple, dance, and play.
Flashes of green reflect
the suns last rays.
The wind in the trees
is the music that plays.

And I think to myself
as the day fades away,
Iíve just been witness to
a hayfield ballet.


© by Julie Creighton.
Used with the authorís permission.
†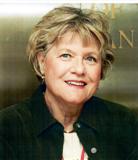 Julie Creighton is retired and lives with her husband of 50 years on a ranch in central Texas. Although she has always enjoyed reading, Julie's appreciation for poetry really developed late in life. She began writing poetry after a girls' trip where the theme was to bring and share favorite poems. At the end of the weekend,† each wrote an original poem to share with the group. Julie enjoyed this new experience so much that she has begun sharing her experiences and thoughts through poetry. Your Daily Poem has moved her to want to share her poems.
†
†
†
Anastasia:
Such lovely images! Thank you!
Posted 08/03/2020 05:00 PM
Lori Levy:
Beautiful images in this "hayfield ballet."
Posted 08/03/2020 02:44 PM
CamilleBalla:
I like this. Very relaxing. I can see it. Julie captured the moments. Thank you!
Posted 08/03/2020 11:38 AM
Stephen Anderson:
It seems that we too often don?t take the time to notice the beauty around us. Thanks for this poem, Julie.
Posted 08/03/2020 11:20 AM
plgoodman:
Sweet and perfect for a soft summer afternoon. Thanks Julie.
Posted 08/03/2020 11:04 AM
Jean Colonomos-1:
A lovely poem to greet the day.
Posted 08/03/2020 09:58 AM
KevinArnold:
The unexpected flashes of green bring me right there.
Posted 08/03/2020 09:23 AM
paradea:
Lovely!!!
Posted 08/03/2020 08:55 AM
richard.cary@att.net:
nice....
Posted 08/03/2020 08:47 AM
Larry Schug:
I agree. Easy rhythm and unobtrusive rhyme. Plus, these words paint a picture.
Posted 08/03/2020 08:17 AM
bobbi43sml@aol.com:
The rhythm of this delightful poem had me swaying with the hay - a delightful dance of a poem. Keep them coming Julie.
Posted 08/03/2020 06:51 AM
Sharon Waller Knutson:
Nice poem to show that we can find beauty in nature. Hayfield ballet is an exquisite image.
Posted 08/03/2020 06:34 AM