You inspired satin. An afternoon of creamy light,
a quiet waltz, contralto hymn.
There aren't enough elegant words
to wrap you in. Lady, Lady Grandmother,
skin that glimmers, planet light
on an August night, a warm palm
caressing mine. It takes a thicker ink
to write you. I could wish
to tell your ancient story
or count your unfolding petals,
could wish to explain your propagation,
analyze the headiness of your scent.
Or I could simply lay my cheek
against your generous petals and be
at home in the oldest story.


© by Grace Marie Grafton.
Used with the authorís permission.
†
†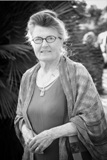 Grace Marie Grafton has taught young students in grades 1-5 to appreciate and write poetry for more than thirty years, as a poet and teacher active in the California Poets In the Schools organization. Her goal has been to support and develop the natural fascination with language of the young child and to encourage what she believes is an inborn love of poetry before it's "rationalized" out of most of us by about nine years of age. Grace's own poems have appeared in hundreds of literary magazines, and she is the author of six books of poems, the most recent being LENS. Her inspiration springs from nature, art and the poetry of others. Raised in California's Central Valley, Grace now lives in the San Francisco Bay Area with her husband and extended family. From her windows, she regularly sees deer, squirrels, woodpeckers, ravens and wild turkeys. Learn more about Grace at https://gracegrafton.wixsite.com/poems.
Anastasia:
I had a magnolia tree outside my window in one of the many houses I lived in as a child. This poem makes me realize how much I miss it!
Posted 08/17/2020 04:58 PM
Wilda Morris:
Beautiful imagery!
Posted 08/09/2020 08:25 AM
Jancan:
Vividly descriptive, such lovely imagery!
Posted 08/08/2020 01:08 PM
Stephen Anderson:
Very nice poem laid out with rich images.
Posted 08/08/2020 10:03 AM
Lori Levy:
Beautiful language.
Posted 08/08/2020 02:49 AM
jim bourey:
Really original, musical and beautifully crafted. A great poem.
Posted 08/07/2020 01:12 PM
paradea:
Beautiful!
Posted 08/07/2020 12:25 PM
barbsteff:
?a thicker ink. What a thought!
Posted 08/07/2020 10:44 AM
KevinArnold:
Subtly sensual and sensational. Great find.
Posted 08/07/2020 10:21 AM
Glen Sorestad:
Beautiful use of language!
Posted 08/07/2020 09:58 AM
Sharon Waller Knutson:
I loved the metaphors in the opening line to describe the beautiful Magnolia blossoms. "satin. An afternoon of creamy light, a quiet waltz, contralto hymn."
Posted 08/07/2020 09:36 AM
michael escoubas:
Some things are beyond adequate explanation . . . and that is the point where poets come in . . . just to make that known! Wonderful poem; so full of Grace!
Posted 08/07/2020 09:01 AM
Larry Schug:
Great opening and closing lines and everything in between-simply wonderful. I especially like "It takes a thicker ink to write you".
Posted 08/07/2020 08:50 AM
paula:
Lovely!
Posted 08/07/2020 05:28 AM
lover:
how tender! makes me wonder about all the ladies before me who led to my creation
Posted 08/07/2020 02:38 AM