Who says blue's for
melancholy?
Not me.
Not here.
 
I crunch through marsh grass
   side-stepping a sea of
   blue-twinkling
   new-blooming marsh heather.
 
I stoop for a tide-tossed mussel shell,
   trace my finger along
   blue-gray swirls inside a
   pearls-mooth rim;
 
I spy far-off hydrangea
   balls bouncing
   blue above
   old stone boulders.
 
I pluck the sweetness of
   blueberries from
   blue-heavy branches,
   blue-splashed bushes.
 
I eavesdrop on
   blue jays scolding
   a cloud-patched sky
   a wave-rumpled river.
 
Don't sing those blues
   for me
   not in August
   not in my blue world.
 
 
This poem first appeared in Getting the Knack (National Council of Teachers of English, 1992).
Used here with permission.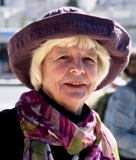 Sheila Murphy has published one chapbook, edited several essay collections, and her poems have appeared in many journals. A retired teacher, she has led memoir workshops for seniors in her local library and for Wesleyan University's Institute for Lifelong Learning. Married for 61 years, Sheila is the mother of four and grandmother of ten. She revels in the company of books, words, chocolate, family, and friends. When not traveling to Ireland and Rome (pre-COVID), Sheila and her husband divide their time between Connecticut and Massachusetts. Her current project is a memoir about her mother, who served as a Navy yeoman (F) in Boston during World War I.
Wilda Morris:
What a wonderful color poem!
Posted 08/09/2020 08:26 AM
Jo:
wonderful images. I sure enjoyed your BLUE
Posted 08/06/2020 11:10 PM
lover:
oh to hold love in your eyes and in your heart!
Posted 08/06/2020 05:59 PM
jmilfordtv:
I love all your action verbs. It is like you are taking me on a trip to see the blue. Great poem, Thank you
Posted 08/06/2020 04:22 PM
Lori Levy:
Beautiful blue images.
Posted 08/06/2020 03:05 PM
CamilleBalla:
Yes, who says....? Not you; not I. You have done a great job of showing us in this well crafted poem. Glad I stopped in YDP on this busy day.
Posted 08/06/2020 03:04 PM
Anastasia:
So many lovely blues in the world, and you've mentioned some of my favorites! Thank you for this poem!
Posted 08/06/2020 12:33 PM
paradea:
All those 'happy' blues!! I like it!!!
Posted 08/06/2020 11:21 AM
Sharon Waller Knutson:
Loved this poem. The blues fly away quickly in the blue sky as the bluebells bloom and I look into the beautiful blue eyes of my husband and soul mate.
Posted 08/06/2020 08:57 AM
michael escoubas:
Wonderful treatment of not only the color but a window into and thru a vibrant live continuing to be well-lived. Congratulations on a very well written poem.
Posted 08/06/2020 08:24 AM