Whatís your favorite wild animal?
I answer the childís question without hesitation.

Iíve always love zebras
for the distinctive black-and-white

striped pattern on their coats

patterns as unique as
fingerprints ó no two exactly alike.

I love everything black and white ó

the morningís crossword puzzle
black letters upon white paper

Scrabble and Domino tiles
dice on board games

clear glass salt and pepper shakers

the memory of two loons
on Bear Lake, Alaska

black and white family photos

surprise sighting of a rare and beautiful
white Monarch butterfly

one long-necked pileated woodpecker
black with white stripes

old films ó Casablanca, Citizen Kane, Marty
endure for generations

and my long onyx and pearl beads
inherited from my mother,

loosely knotted, hanging low.


© by Sharon Lask Munson.
Used with the authorís permission.
†
†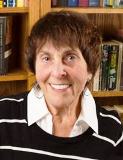 Sharon Lask Munson lives in Eugene, Oregon. A retired teacher, she loves old movies and road trips and is the author of two chapbooks and two full-length collections. Sharon finds inspiration in many things: a mood, a memory, the smell of cooking, burning leaves, a windy day, rain, fog, something observed or overheard . . . and of course, imagination. Learn more about her at www.sharonlaskmunson.com.
Anastasia:
This starts out playful, and ends up emotional. I love how you wrote this!
Posted 08/22/2020 02:03 PM
Janet Leahy:
I have never seen a "white" Monarch butterfly. Lovely poem.
Posted 08/21/2020 11:44 PM
Lori Levy:
Great list poem.
Posted 08/21/2020 02:40 PM
michael escoubas:
Who says life is never "black and white"? You've proved the naysayers wrong Sharon. Unique poem and extremely well done. "Casablanca" is my favorite B/W movie.
Posted 08/21/2020 10:41 AM
SAR2126:
A perfect poem, an unexpected ending that ends in the emotional explanation of all that comes before. Love it.
Posted 08/21/2020 08:58 AM
cork:
A tiding of magpies.
Posted 08/21/2020 08:55 AM
Sharon Waller Knutson:
Kudos for this clever, unique poem. I love black and white photos, films, newsprint, Zebras, Scrabble and Domino tiles.
Posted 08/21/2020 07:05 AM