Water-logged hydrangea's blossomed
heads loll heavily under overhangs.
Grass patches--odd green color never seen
before--grow knee-high in the yard.
 
Leaves are tiny water slides, millions
pointed down. Saturated squirrels sit still
amid the constant sizzle-sounds of drench.
Chirrup, chirrup call ruffled, rain-soaked birds.
 
Creeks overflowing banks, washed-out roads,
travelers' warnings scroll across the screen.
Ruined backyard plans have gone inside
'til blue has pushed through all the dismal gray.
 
Then, in this world of wet, an august calm.
Distant thunder rumblings don't bring a storm.
Too late. The piled cut-clover suffocates the grass
and watermelons taste too much like water.


© by Patricia Killian Deaton.
Used with the author's permission.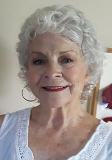 Patricia Killian Deaton lives in the historic foothills town of Valdese, North Carolina. She writes poetry, short stories, and some nonfiction, and has published in these genres in various journals. Most recently, Patricia received an award from the 2020 NC Poetry Society; her poem, "At Play," earned an honorable mention in the Carroll Bessent Hayman Poem of Love category. Patricia says walking alone, and time spent with her great-grandchildren—Maria, 7, and Elias, 4. "does a body good!"
finney@charter.net:
So good to know you are writing! I practically sloshed through this poem, then gurgle, gurgle, gurgle.... Such familiar images well penned.
Posted 08/22/2020 07:39 PM
barbsteff:
?watermelons taste too much like water. Outstanding images here. I never saw a rain-soaked squirrel.
Posted 08/22/2020 06:19 PM
Lori Levy:
Beautiful images.
Posted 08/22/2020 02:24 PM
Anastasia:
Wonderful images! "Leaves are tiny water slides" is so perfect!
Posted 08/22/2020 01:59 PM
Jean Colonomos-1:
Such beauty in such difficult times.
Posted 08/22/2020 10:42 AM
Sharon Waller Knutson:
Send some rain to Arizona. We are having a drought.
Posted 08/22/2020 08:42 AM
michael escoubas:
We are currently living under an extended high-pressure dome here in central Illinois. But many a time it pours on us just you describe. I, too, like the way you employ "august" as an adjective. Nicely done, Patricia!
Posted 08/22/2020 08:35 AM
r1manchester:
"Patsy"...very nice poem and happy upcoming (next week) birthday!
Posted 08/22/2020 06:47 AM
KevinArnold:
Wonderful imagistic details.
Posted 08/22/2020 05:08 AM