(La Canicula)

Orionís
old hunting dog
rises early in the east,
late summer heat promptly
rouses as well, basks upon his
wrinkled hound skin. He slowly circles,
lies back down on a faded front porch
and gradually closes just one eye,
scratches his pale haunches,
then sinks deep into doldrums
of buried bones he could
still be chewing.
Distant histories; guarding
vast nations and deepest dreams
of nocturnal hunting feats where,
while tracking Sirius visions,
he rushes on in Canis major,
rides dim star-chasmed skies,
stalks hot and sultry seasons
all while reciting Homerís Iliad
verse which stretches out
in scorching reverie,
resolved to take
Achilles down
in the ancient
heat of
Troy.


© by Elizabeth Perdomo.
Used here with the authorís permission.
†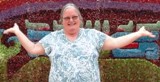 Elizabeth Perdomo has lived and written in the Rio Grande Valley of South Texas for the past 18 years, moving to the region from the Rio Grande Valley of New Mexico. Born in Kansas and raised both there and in Colorado, she also lived in the southeastern U.S. for a number of years. Elizabeth has been writing poetry since her teen years, on topics that include local place and culture, cooking, gardening, ecology and nature, traditions, spirituality, and more. The author of One Turn of Seasons, featuring poetry about people and places in East Tennessee, her work is also featured in the anthology, Kansas Time + Place and in various publications, including Heartland, Writers of the Rio Grande, Chachalaca Review, and Interstice.
Anastasia:
"dim star-chasmed skies" - that is an *amazing* phrase!
Posted 08/26/2020 02:25 PM
paradea:
Neat!!
Posted 08/26/2020 09:57 AM
KevinArnold:
And what a fun shape as well. On its side, it?s a mountain range.
Posted 08/26/2020 09:33 AM
Sharon Waller Knutson:
Loved this picturesque, humorous, entertaining poem. The Greek mythology metaphors were brilliant. I can relate since it is 115 degrees in Arizona.
Posted 08/26/2020 08:42 AM
Larry Schug:
Magnificent! An astronomy lesson, a study of classical cultures and myths, of good old dogs and entertaining as well.
Posted 08/26/2020 06:52 AM
paula:
Great! Love "star-chasmed"!
Posted 08/26/2020 05:17 AM