Another disastrous year, he laughs.
 
April: Pepper seedlings left outside, shot through with frost.
May: Thriving tomato sprouts scorched by sudden heat.
Rare Swiss chard mistaken for weeds, flung to the compost.
                                           
June and July: everything under- or over-watered,
aphids viewed as benign till almost too late,
and then the pesticide carried away to nearby broccoli.
 
That night, that night in August
when he left the gate ajar, and the roaming rabbits
moved in for a leveling gourmet marathon –
what a story, that one, one for the gardening ages.
 
All alone, out on his porch, he considers:
How bumbling and unprofitable my efforts.
How small and inept I am,
but we have had a summer adventure,
these earthy things and I.
 
In the softened light of a candle he is pouring champagne
and toasting, tipping the flute's edge to the season past
and the last of his yield, on his plate:
 
the lone sweet corn ear, its twenty-five kernels gleaming,
the handful of bush beans, tenderly anorexic,
the mini-eggplant that might have graced a starlet's ear.
 

From Not Quite Eden (Fireweed Press, 2010).
Used here with permission.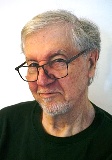 Richard Swanson, from Madison, Wisconsin, has been improving his cooking skills during these past pandemic months. During those rare occasions when he's out, he's appreciated less densely populated city streets and, as a former English teacher, has gained enormous respect for teachers having to convert everything to virtual instruction. Richard is the author of two chapbooks and three full-length poetry collections, the most recent being Slow and Other Poems. All are available from Fireweed Press.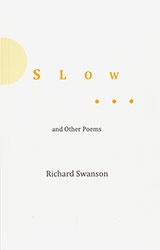 Wilda Morris:
I can identify with all the the gardening failures. Love the redemption of failure and loss with the appreciation of what was harvested. What a wonderful poem.
Posted 08/30/2020 09:57 AM
Jo:
It?s good we can laugh about it. What a summer for the gardener.
Posted 08/27/2020 10:43 PM
Lori Levy:
Like the humor in this poem.
Posted 08/27/2020 08:56 PM
michael escoubas:
Best biology lesson I've had in a while, Richard. Nice work.
Posted 08/27/2020 01:18 PM
Egil:
Love it! My sentiments exactly! But there's always the chance to start over for next year!!! Just like teaching, the best garden ever, the best class ever is always possible!
Posted 08/27/2020 01:07 PM
Anastasia:
"but we have had a summer adventure, these earthy things and I." That's how I view most of my gardening efforts?they don't always turn out as I planned, but I have learned about the plants, the soil, and myself in the process. Thank you for sharing your poem!
Posted 08/27/2020 01:01 PM
Stephen Anderson:
This is a deliciously tasty poem, Richard. One to be savored in our human predicament.
Posted 08/27/2020 12:38 PM
Jean Colonomos-1:
A great metaphor for accepting how some efforts fall apart.
Posted 08/27/2020 10:16 AM
Larry Schug:
A lesson in "ya can't win 'em all" but it would be nice to win a few in the garden of life. The last verse is quite satisfying though there is empty territory on the plate. Any gardener (or eater) would appreciate this poem, I think.
Posted 08/27/2020 09:07 AM
paradea:
Yep. My one strawberry that a snail had nibbled on, but I ate it anyway!!! I love this poem!!! Hits home and makes me laugh!!
Posted 08/27/2020 09:03 AM
mail@schoolbusmart.com:
What a year! No wonder you?re tipping your flute. Great descriptions of your anemic edibles. Ha. Twenty-five kernels indeed. Randy
Posted 08/27/2020 07:57 AM
paula:
I know that garden!
Posted 08/27/2020 05:26 AM