When I spotted you,
perchance,
advancing on a lilac branch,
I immediately called my
grandsons, aged 10 and 7.

I wanted them to see
the intricate design of your
cellophane wings,
two pairs of them, and your five eyes,
I let the boys stare in wonderment.

Your high-pitched summer song,
sung on long August nights,
is a violinís sweet bow
calling for romance . . .
your mate is on her way.

Thank you brave cicada
for showing me a perfect metaphor
of life. I vow to sing my song,
until, like you, Iíve lived† my life in full,
and without regret, leave nothing but the shell.


© by Michael Escoubas.
Used with the author's permission.
†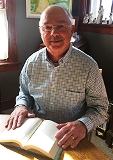 Michael began writing poetry for publication in August of 2013, after retiring from a 48-year-career in the printing industry. He writes poetry because, early in life, his mother encouraged him. Michael also writes poetry because he believes poetry brings people together and that poets are menders of broken things. Michael is the author of three collections--Light Comes Softly, Monet in Poetry and Paint. and his most recent, Steve Henderson in Poetry and Paint.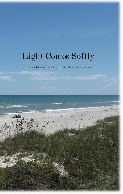 Anastasia:
What a wonderful moment, captured so well!
Posted 10/17/2020 05:18 PM
Q_:
Beautiful!
Posted 09/05/2020 10:59 AM
DELINDMAN:
Visual beauty as well as a lesson on life. Thank you.
Posted 09/02/2020 01:31 AM
Wilda Morris:
Thank you, Michael, for this wonderful look at the cicada! I'm right there with you and your grandchildren. And as others have said, what a great ending!
Posted 08/30/2020 09:54 AM
Lori Levy:
Beautiful. Great ending.
Posted 08/30/2020 01:15 AM
wjgoodling:
Very nice.
Posted 08/29/2020 11:05 PM
Glen Sorestad:
A lovely and effective use of metaphor, Michael. So effective.
Posted 08/29/2020 12:09 PM
Arlene Gay Levine:
You do sing your song with poignancy and precision!
Posted 08/29/2020 11:27 AM
Jean Colonomos-1:
Sooo moving. Thank you.
Posted 08/29/2020 10:56 AM
DavidTookey:
This poem has it all: A shared sense of wonder, a focus on detail and a gentle, humble, personal connection. Superb!
Posted 08/29/2020 09:57 AM
paradea:
Beautiful!!!
Posted 08/29/2020 08:53 AM
KevinArnold:
What an elegant poem.
Posted 08/29/2020 08:48 AM
mail@schoolbusmart.com:
I agree with ladybug and the powerful ending. Randy
Posted 08/29/2020 08:07 AM
ladybug:
Michael. you have captured a lovely moment and powerful ending in this poem. Susan Moss
Posted 08/29/2020 07:59 AM