A quiet shore,
a little lass,
A sunny hour
they have to pass.

The roguish sea
plays his part well,
He hides a rock
and then a shell.

The little girl--
explorer she--
Unearths the treasure
at her knee.

And so the quiet
hour they pass,
The great sea
and the little lass.


This poem first appeared in Rivulets 18 (Naperville Writers Group).
Used here with permission.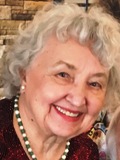 Marilyn Giese lives beside a golf course in Aurora, Illinois, with a pond outside her door that brings endless delight. She credits her diverse interests to to having 5 children, 18 grandchildren, and 2 great-grandchildren. Marilyn's published books include a photo-journal of the Holy Land, an historical novel about Saint Peter, and a satire on well-known nursery rhymes. Her poetry has been included in various anthologies, including several by June Cotner and the Illinois State Poetry Society's Distilled Lives series.
Anastasia:
A lovely poem, and a lovely memory for the granddaughter as well!
Posted 10/17/2020 05:56 PM
Lori Levy:
Gives a feeling of peace and contentment.
Posted 08/31/2020 12:24 AM
Jeanfgorski:
I loved it. It is creates a beautiful, happy moment. Well done!
Posted 08/30/2020 04:42 PM
CamilleBalla:
A delightful intro with the sea for the little lass now penned into memory. A nice poem to treasure, Marilyn.
Posted 08/30/2020 11:47 AM
paradea:
Love this for its simplicity and the nostalgia it brings to me!!
Posted 08/30/2020 10:29 AM
Wilda Morris:
What a delightful poem! It started my day with a smile. Thank you, Marilyn.
Posted 08/30/2020 09:52 AM