Biscuits transubstantiate from
buttermilk or Lily brand flour and
Clabber Girl baking powder
into a heavenly delight.
So, it is only right that they
are the first item passed
after prandial prayer.
Plucking one from the basket
passed to me,
my fingers tingle as they brush
the lightly crisped top.
Slowly, I separate the still warm
bread of perfection
into two perfect halves,
tamping down the steam
with a pat of real butter
and a swirl of honey.
I lift one section to mouth
and savor the
sweetness of the topping,
aided and abetted by the salty,
creamy butter amid the
biscuit crumbs.
Edible perfection.
 

This poem first appeared on a broadside sponsored by
Poetry in Plain Sight (Winston Salem, Dec. 2019)
Used here with permission.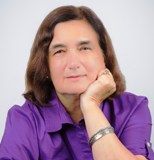 Joan Leotta lives sin Calabash, North Carolina. A writer and story performer, her poetry, essays, articles, and short stories are widely published and she is the author of ten books. On stage, Joan tells stories of food, family, and strong women. Learn more about her at www.joanleotta.wordpress.com.
Q_:
You perfectly captured the delight of eating a biscuit made with love and care... Beautiful poem!
Posted 09/05/2020 10:56 AM
Stephen Anderson:
You made my mouth water with this one, Joan!
Posted 09/05/2020 09:20 AM
barbsteff:
Has to be a pem by a Southerner, where biscuts are held in high regard. Lovely use of language, including the sly insertion of transubstantiate. A Northerner, I do not share the poet's opinion of this comestible.
Posted 09/03/2020 03:11 PM
Linda Lee Konichek:
A luscious poem. I feel like I've feasted!
Posted 09/02/2020 11:02 AM
DELINDMAN:
Wonderful! Taste, touch, smell, sight, you have it all!
Posted 09/02/2020 01:04 AM
Anastasia:
This brings back memories of many wonderful breakfasts at my grandmother's house, eating fresh biscuits off of Blue Willow plates! Thank you for this delight!
Posted 09/02/2020 12:39 AM
Lori Levy:
I feel like having a biscuit after reading this poem.
Posted 09/01/2020 03:17 PM
SAR2126:
I love the lofty language to describe the humble biscuit.
Posted 09/01/2020 10:11 AM
KevinArnold:
The religious words add another level of mystery to this delightful poem.
Posted 09/01/2020 08:51 AM
cork:
I became Pavlov's dog while reading this poem.
Posted 09/01/2020 08:51 AM
Larry Schug:
The narrator of this poem is an eater who savors each bite, the taste, the smell, the tactile aspect of eating. The way these biscuits are described in this poem, I, being the kind of eater I am, would quickly "scarf them down", then grab another!
Posted 09/01/2020 08:49 AM
michael escoubas:
I'll be the first to say it: "This is poetry I can taste!" Thank you, Joan, I've got the recipe.
Posted 09/01/2020 08:49 AM