It's one of those nights
when light falls from the sky
onto the white azaleas,
and you don't know how it is
you can be so happy
when nothing in your world
has been resolved. No telling
what rolls away that stone.
Just like when you were a child –
no one could make you understand the moon,
why it came and went the way it did.
Even now, if someone were to ask you
to explain wax and wane,
you would probably just stammer and shrug.
All the charts and diagrams,
the revolving planet mobile
with demonstration flashlight –
none of it makes any more sense
than a brown bird laying a bright blue egg.
Some things are just true.


© by Pat Hale.
Used with the author's permission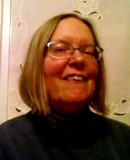 Pat Hale lives in Connecticut where, lately, she's spending lots of time at home (courtesy of the pandemic) watching the squirrels and rabbits outside her windows, and discovering the wealth of animal videos online. Pat is the author of a poetry collection, Seeing Them with My Eyes Closed, and a chapbook, Composition and Flight.
Q_:
Absolutely amazing, I find myself in that poem.
Posted 09/05/2020 10:54 AM
Barbara Reynolds :
Pat, I love this poem. Nowadays life is about the small wonderings. The big stuff is too hard.
Posted 09/03/2020 11:56 AM
Stephen Anderson:
An interesting poetic grab of life, Pat.
Posted 09/03/2020 08:50 AM
Lori Levy:
Great ending for a beautiful poem.
Posted 09/02/2020 03:12 PM
Shoshauna Shy:
Last night the full moon filled my back yard. Jane must have planned for your poem to coincide with the moonlight :)
Posted 09/02/2020 02:42 PM
MatthewMiller:
This is so lovely. What a contemplative and joyous place to be!
Posted 09/02/2020 01:44 PM
michael escoubas:
I like the way this poem leads me into the beauty of things . . . which is enough! Let the moon's light fall. Thank you, Pat.
Posted 09/02/2020 11:50 AM
SAR2126:
"you don?t know how it is you can be so happy when nothing in your world has been resolved" -- words to live by.
Posted 09/02/2020 10:59 AM
paradea:
Love this poem!!!
Posted 09/02/2020 09:44 AM
Gilbert Allen:
A lovely, gentle poem.
Posted 09/02/2020 09:25 AM
cork:
The morning moon in the western sky was beautiful but I have no garden.
Posted 09/02/2020 09:00 AM
Jean Colonomos-1:
Such a satisfying poem. It brings me back to how wonderful wonder is.
Posted 09/02/2020 08:08 AM
mail@schoolbusmart.com:
I always wondered about those brown birds laying blue eggs. Thanks, Randy
Posted 09/02/2020 07:45 AM