I walked to school past Freddie's swing
and it sang its siren song to me.

"Come, Freddie's friend,
sit down and swing,
forward and back
forward and back.
Make my arc reach high
until your feet scrape the sky.
Soar and plunge
soar and plunge
until you feel your insides race
to keep pace
with the rest of you.
Feel the air thicken
claw at your clothes
press on your face.
Hear it rush by your ears.
Then hang your head back and watch
the clouds reel by
the clouds reel by."

And before I knew it
I was late for school again.


© by Richard Greene.
Used with the author's permission.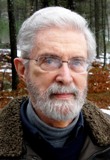 Richard Greene began writing poetry in the 8th grade, inspired by the opening lines of Longfellow's "Evangeline"—"This is the forest primeval. The murmuring pines and the hemlocks / Bearded in moss and in garments green, indistinct in the twilight"—which he was required to read in class. In college, after a classmate deemed Richard's rhyming poem "trite," he stopped writing until, a couple of years later, a class with Henry Rago, subsequently editor of Poetry magazine, inspired him to resume his efforts. But poetry fell by the wayside for almost forty years as a busy career in international development consumed his life. As retirement approached, however, Richard's dedication to poetry returned; he has now self-published a book (Explorations, Antrim House Books), and shares a "poem of the week" (get on the mailing list by requesting it at greeneplace@gmail.com). Richard lives in Nyack, New York; learn more about him at www.greenepage.net.
Lori Levy:
I feel like I?m on the swing too when I read this poem.
Posted 09/11/2020 04:51 PM
Anastasia:
An excellent reason to be late!
Posted 09/11/2020 02:09 PM
michael escoubas:
A good poem puts the reader in the action. This is a good poem. Thank you Richard.
Posted 09/11/2020 01:24 PM
cscoville:
This poem just transported me back in time over 50 years, but it also made me want to look for a swing this afternoon.
Posted 09/11/2020 10:46 AM
cork:
Leaping out at the forward height was always a challenge.
Posted 09/11/2020 08:56 AM
mail@schoolbusmart.com:
Now Richard, get your head out of the clouds, young man, or you'll be late again. I'm always late finding myself involved in writing something. So move over, making room for me too having to get that late pass to class or someplace I was supposed to be. Randy
Posted 09/11/2020 08:07 AM