Sincerely,
I was innocently trimming
some branches and twigs,
off that small tree
hanging over our drive,
when I came upon your nest.

Sorry, Mother Sparrow,
I didn't see your abode,
which I did not expect
so late in the summer.

Thank you
for making such racket,
chirping and fluttering,
as I came too close.

Again, apologies.
From now on
I will strive to be
...more mindful.


© by Milt Machálek.
Used with the author's permission.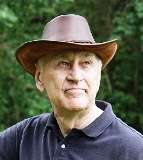 Milt Machálek started life as a Texas farm boy but ended up at Harvard, acquired a PhD in nuclear physics, and embarked on a career in fusion energy research at Los Alamos and Princeton. Chapter Two was a career in international high-tech business involving Russia and Kazakhstan, and being CEO of a domestic high-tech company. For the past two decades, though, Milt has identified as a metal sculptor and poet. He lives in Lititz, Pennsylvania, which he declares as the "coolest small town in America."
Anastasia:
Thank you for being kind to the birds, and for sharing your poem!
Posted 09/10/2020 08:24 PM
Lori Levy:
Simply expressed, but beautiful. Impressive bio from physicist to poet!
Posted 09/10/2020 05:07 PM
michael escoubas:
"Mindfulness" in all of life, not just at specified times. Timely theme, Milt, and well done.
Posted 09/10/2020 10:28 AM
Larry Schug:
A close call is illuminating, a light that leads to self-honesty and discovery, our place in the scheme of things. this also a poem with a lesson in paying attention to being alive. Nicely and simply done.
Posted 09/10/2020 09:05 AM
KevinArnold:
Fun . . . and what a bio! Makes me want to move in next door in Lititz.
Posted 09/10/2020 08:59 AM