Completing their morning laps,
they flip on to the platform
and stand preening,
pecking at each wet feather
like a swimmer examining his abs,
periodically stopping to lift
their heads for a quick vibration
like the swimmer
shaking water from his ears.
They resume their preen until
they rest their heads on their wings
and fall asleep standing.


© by Bill Batcher.
Used with the author's permission.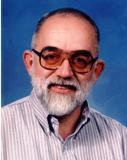 Bill Batcher is the author of four books. A retired teacher, with a Doctorate in Education from Teachers College at Columbia University in New York, his poetry has been published in magazines, anthologies, and online collections, and has won several awards. Bill and his wife, Carol, live in Greenport, New York.
Lori Levy:
Great image of the ducks.
Posted 09/23/2020 11:16 PM
Anastasia:
The fountains near our office attract ducks. It's a pleasant diversion to watch them as they go about their day!
Posted 09/23/2020 12:52 PM
michael escoubas:
Like any good poet, Bill, you place fortunate readers "in" the poem. Nicely done.
Posted 09/23/2020 09:37 AM
cork:
I am a swimmer and enjoyed the comparisons
Posted 09/23/2020 08:57 AM
Sharon Waller Knutson:
This poem is delightful with its personification and metaphor.
Posted 09/23/2020 07:18 AM