Your branches like breath
lifting, sighing with the breeze
up and sway, your leaves speak
words like oval, green, edged, flutter.
A chorus antiphonal: breeze, leaves.
My lungs fill, my heart lifts.
Squirrels are intimate with every part of you,
red-headed woodpecker pecks holes,
hides September acorns. Do resident
squirrels steal them?
You are a town, a movie I watch.
I lean against your trunk,
I breathe the breath of branches,
I whisper sweet shushings to you
along with wind as it rubs your leaves together.
Listen squirrel, listen jay, listen woodpecker,
listen sparrow, listen chickadee.

© by Grace Marie Grafton.
Used with the author's permission.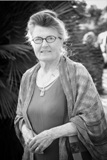 Grace Marie Grafton has taught young students in grades 1-5 to appreciate and write poetry for more than thirty years, as a poet and teacher active in the California Poets In the Schools organization. Her goal has been to support and develop the natural fascination with language of the young child and to encourage what she believes is an inborn love of poetry before it's "rationalized" out of most of us by about nine years of age. Grace's  own poems have appeared in hundreds of literary magazines, and she is the author of six books of poems, the most recent being LENS. Her inspiration springs from nature, art and the poetry of others. Raised in California's Central Valley, Grace now lives in the San Francisco Bay Area with her husband and extended family. From her windows, she regularly sees deer, squirrels, woodpeckers, ravens and wild turkeys. Learn more about Grace at https://gracegrafton.wixsite.com/poems.
Lori Levy:
Especially like the line, "Squirrels are intimate with every part of you."
Posted 09/25/2020 12:37 AM
Anastasia:
This is so wonderful and soothing! Just what I needed in the middle of a hectic day. Thank you, Grace!
Posted 09/24/2020 01:12 PM
Sharon Waller Knutson:
Nice picturesque poem and refreshing portrayal of an oak tree. My favorite line is: You are a town. A movie I watch."
Posted 09/24/2020 11:31 AM
bqwriter:
How wonderful to see you here, dear Grace, on Jayne's site! Our poems are going to have a lovely visit, even if we can't just now.
Posted 09/24/2020 11:17 AM
Jean Colonomos-1:
Such a breath of fresh air. Thank you.
Posted 09/24/2020 10:57 AM
cork:
I see a trunk painted white for protection.
Posted 09/24/2020 09:02 AM
Nicholas:
Nice sense of connection. Like it.
Posted 09/24/2020 07:12 AM
KevinArnold:
Ah, intimacy with trees. Fun.
Posted 09/24/2020 06:20 AM