Of Jonathan Chapman
Two things are known,
That he loved apples,
That he walked alone.

At seventy-odd
He was gnarled as could be,
But ruddy and sound
As a good apple tree.

For fifty years over
Of harvest and dew,
He planted his apples
Where no apples grew.

The winds of the prairie
Might blow through his rags,
But he carried his seeds
In the best deerskin bags.

From old Ashtabula
To frontier Fort Wayne,
He planted and pruned
And he planted again.

He had not a hat
To encumber his head.
He wore a tin pan
On his white hair instead.

He nested with owls,
And with bear-cub and possum,
And knew all his orchards
Root, tendril and blossom.

A fine old man,
As ripe as a pippin,
His heart still light,
And his step still skipping.

The stalking Indian,
The beast in its lair
Did no hurt
While he was there.

For they could tell,
As wild things can,
That Jonathan Chapman
Was God's own man.

Why did he do it?
We do not know.
He wished that apples
Might root and grow.

He has no statue.
He has no tomb.
He has his apple trees
Still in bloom.

Consider, consider,
Think well upon
The marvelous story
Of Appleseed John.

This poem is in the public domain.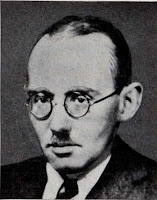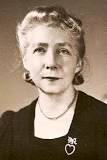 Stephen Vincent Benét (1898 - 1943) was born into a military family for whom poetry was a particular pleasure. Afflicted with scarlet fever as a toddler, his eyesight was permanently damaged, but Steven loved to read and began writing poetry and winning prizes for it while still a child. At seventeen, he published his first book and entered Yale University. During his brief life, Stephen created work in almost every genre of literature, earning two Pulitzer Prizes, a Guggenheim Fellowship, and an O. Henry Short Story Award along the way. His story, "The Sobbin' Women," based on the Roman legend of the abduction of the Sabine women, was the basis for the hit movie "Seven Brides for Seven Brothers."
Rosemary Carr Benét (1898 – 1962) was born in Chicago to one of that city's first women doctors. A Phi Beta Kappa who loved politics and was never afraid to speak her mind, she was an accomplished journalist, translator, and literary critic, as well as a poet, writing for such esteemed publications as Harper's Bazaar, Vogue, and The New Yorker. Rosemary and Stephen met while both were traveling in Paris. They married in Chicago in 1921 and had three children.Learn more about Stephen and Rosemary here.

CamilleBalla:
Very interesting. Thanks for sharing. I?ll share with kids and grandkids.
Posted 09/26/2020 03:21 PM
michael escoubas:
Totally delightful, especially in an age when people seem bent on "destroying" what they don't like; this poem is about contributing something positive for the good of all. Great post, Jayne.
Posted 09/26/2020 02:16 PM
pwax:
Thanks for the poem, Jayne, and for the biographical information I wasn't aware of.
Posted 09/26/2020 12:41 PM
Linda Lee Konichek:
I love this and the "word pictures" it contains!
Posted 09/26/2020 11:51 AM
TheSilverOne:
Hadn't heard this in years! Great hearing it again.
Posted 09/26/2020 11:06 AM
cork:
I love the team effort!
Posted 09/26/2020 09:07 AM
KevinArnold:
Great fun.
Posted 09/26/2020 07:39 AM
Larry Schug:
I especially like the second stanza. Great choice for today Jayne.
Posted 09/26/2020 07:14 AM