A scribbled note. Written after finding
a chutney recipe late last night. Something
new to make with a few remaining pears.
The endless pears, tucked in their newspaper
downstairs, that ripen with such certainty.
The ones my son picked before the rain.

Like my mother's, written on the back
of an envelope, mine is a reused list
of crossed off items restored to need.
Frozen cranberries, top shelf at Fairways,
ginger root, anise seed circled so I don't forget,
golden raisins, always a treat. Buttermilk.

I'm off to the shop before the heat of the day.
Doesn't this list positively scream September?
My son reminds me how he loves to gobble
canned pears by the pint full come winter.
We chat on the phone for an hour while I chop.
By the time we hang up the canner is full.

He shares stories of gentlemen who offer him
tomatoes when he cuts their lawns. What is it
about old men and tomatoes he ponders.
Trophy, I say, something to be proud of still.
He is making a list of people to whom
he wants to give my jam. Purpose, I say.


© by Judith Heron.
Used with the author's permission.

Photo credit: Judith Heron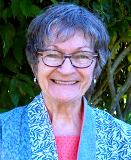 Photo Credit: Mandy Greyling Holmwood
Judith Heron lives in Victoria on Vancouver Island. She has been published in a number of chapbooks edited by Patrick Lane, and in three anthologies: A Murder of Crones (Ptarmigan Press 2007), The Wild Weathers: a gathering of love poems (Leaf Press 2012), and Poems from Planet Earth (Leaf Press 2013). Though she has always lived on the west coast of Canada, Judith cherishes the homestead traditions of her prairie heritage. She relishes the rituals of becoming an elder, which include permission to visit and work in variuos gardens and to spend more time "with the birds."

Anastasia:
Now I want to buy many pears to preserve for the winter!
Posted 09/28/2020 02:57 PM
Lori Levy:
Very appealing to the senses.
Posted 09/27/2020 07:12 PM
BAMars:
Everything about this poem speaks to me at this time of my life. I love this line: "crossed off items restored to need" -- so practical but maybe metaphorical as well.
Posted 09/27/2020 03:04 PM
LindaCrosfield:
"Trophy, I say..." just great, Judith! Good one.
Posted 09/27/2020 02:26 PM
peninsulapoet:
Lovely poem. Nothing sweeter than recognizing the joy In daily life.
Posted 09/27/2020 12:48 PM
cork:
I may circle a few items on my grocery list which is slowly growing.
Posted 09/27/2020 10:07 AM
michael escoubas:
We had pear trees on the farm growing up in central Illinois; I have memories of late summer ripening and squashing them underfoot going from the car into the house!
Posted 09/27/2020 08:53 AM
paradea:
Great!!
Posted 09/27/2020 08:36 AM
KevinArnold:
Tomatoes 🍅 as old men?s trophies 🏆 makes this poem.
Posted 09/27/2020 08:04 AM
Larry Schug:
Wonderful! Just the right tone, the perfect voice and an insightful ending. Bravo!
Posted 09/27/2020 07:43 AM