As sparrows play
with total disregard
for travel plans,
geese practice their drills
before the flight south,
lining up, perfect penmanship
of V's, taking turns
trading off the lead.
 
The starlings lift
like a hot-air balloon,
from the oak tree
where they congregate,
a mimicry of leaves,
rising skyward as one,
the tree's dark twin.
 
A red-tailed hawk
bored with his hunt,
works the edges
of their flight
looking for a way in,
an outsider unwelcome
amid their unanimity.
 
Even the roosting buzzards,
sentinels perched
atop the streetlamps,
stop their gossip
to watch his failed attempt.


© by Nancy Posey.
Used with the author's permission.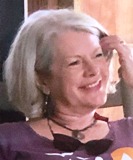 Nancy Posey's poetry and book reviews have appeared in a number of publications. After living in Hickory, North Carolina for many years, she moved to Nashville in 2016 to be closer to her grandchildren. A native of Alabama and a former high school teacher, she currently serves as an adjunct professor at Lipscomb University and co-hosts a monthly open mic. Nancy, who plays mandolin and sings with a faculty band called The Low Expectations, also writes for Music City Music Magazine.
Lori Levy:
Great images of the birds.
Posted 09/28/2020 02:56 PM
Anastasia:
I love watching birds, and you've described this so well, and with a touch of humor.
Posted 09/28/2020 02:55 PM
Sharon Waller Knutson:
I loved this delightful picturesque poem and unique approach to bird migration. It was like watching high school football players and cheerleaders practicing for the first fall game.
Posted 09/28/2020 09:55 AM
Larry Schug:
The powers of observation and the ability to translate it to poetry stands out in these words.
Posted 09/28/2020 09:16 AM
michael escoubas:
Nicely done, Nancy . . . you place me "there" in the action, with enticing imagery. Thank you.
Posted 09/28/2020 09:00 AM
cork:
The "unanimity" stands out strong.
Posted 09/28/2020 08:41 AM
paradea:
"the tree's dark twin"...Love this, Nancy!! We miss your creativity and bubbly personality here in North Carolina!!! Stay safe. Pat.
Posted 09/28/2020 08:41 AM