What I will miss the most: that rich-
incense scent of morning, nut-brown
ever-so-slightly discernable bitterness
flowing as part tonic, part promise
of good to come,
though also as reminder
that now, this now
of the moment--sip, taste
and swallow--is the only
moment there is.


© by Andrea Potos.
Used with the author's permission.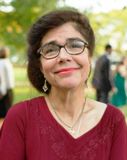 Andrea Potos, who writes in longhand, is a longtime independent bookseller and the author of numerous books; the latest is Mothershell, from Kelsay Books. Andrea loves reading, travel, cafes, and walking beside lakes and on green trails—"of which there are many," she says, in Madison, Wisconsin, where she lives. Andrea's Greek grandparents and their spirit have been an abiding presence and inspiration throughout her life and poetry.
Lori Levy:
Captures what coffee is to me, too!
Posted 10/01/2020 10:05 PM
Linda Lee Konichek:
I love this poem;it pictures so well the place of morning coffee in my life!
Posted 10/01/2020 07:12 PM
Anastasia:
Coffee and wisdom in one poem - nicely done!
Posted 10/01/2020 05:43 PM
Sharon Waller Knutson:
I am an Andrea Potos fan and I love poems I can taste, smell and live in. This is one such poem.
Posted 10/01/2020 11:32 AM
CamilleBalla:
I?m sipping my morning coffee, tasting your poem, smiling. So warm and cozy. Thanks!
Posted 10/01/2020 11:13 AM
22mikey1:
What a pleasant poem. I remember being disgusted after trying coffee for the first time as a kid; I would have never expected to look forward to that bitter, earthy, nutty brew every morning.
Posted 10/01/2020 11:12 AM
cork:
I read the poem over the rim of my coffee cup.
Posted 10/01/2020 08:53 AM
Larry Schug:
While I'm not sure if we will "miss" anything after we're gone, the ending of this poem speaks the lesson of life.
Posted 10/01/2020 08:38 AM
michael escoubas:
From one kindred spirit to another . . . bravo Andrea!
Posted 10/01/2020 08:33 AM
KevinArnold:
What a wonderful poem this is. Galway Kinnell taught there are two kinds of titles, ones that accurately characterize the poem, almost like the name on a file folder?think of Stevens? Sunday Morning, or a title that does much more of the work of the poem, such as this. Being Galway, he said it much better of course.
Posted 10/01/2020 08:20 AM