The conversation comes up all
the damn time:
who needs books
when we have the Internet.
Books take up space,
collect dust, pages yellow, paperbacks fall apart,
they end up in boxes in the attic or beneath the stairs.
You donít look things up
in books anymore. A few keystrokes
or a shout out to Alexa
and you have your answer!
So who needs books anyway?
Me. I do. Why?
Let me explain by way of analogy:
40 years back in grad school a student says
to the professor, Latinís a dead language
so why do we bother learning it?
The prof, staring with that
what-are-you-an-idiot look on his face says
ďBecause intelligent people learn Latin, thatís why.Ē


© by Michael Estabrook.
Used with the authorís permission.
†
†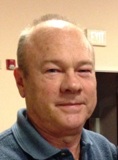 Michael Estabrook, a small press poet since the 1980s, says he is "always striving for greater clarity and concision and for rendering language more succinct, precise, accessible and appealing--a Sisyphean adventure for sure." Now retired after 40 years, Michael is enjoying having more time to write and to work outdoors. He has published more than 20 collections, a recent one being The Poet's Curse, A Miscellany (The Poetry Box, 2019).

William Marr:
In our recent conversation, the editor of a well-known poetry magazine in Taiwan which has published many of my poems and translations, raised the exact same question. I think your poem is an elegant answer to the question. May I have your permission to translate your poem and have it published in that magazine?
Posted 10/04/2020 01:10 PM
cork:
Amo, amas, amat, amamos, amatis, amant.
Posted 10/03/2020 09:37 AM
Lori Levy:
I still need physical books, too!
Posted 10/02/2020 08:26 PM
Anastasia:
My high school discontinued the Latin program because the football team needed new uniforms, so I did Latin as a self-study course. Being left alone for an hour a day to talk to myself in Latin was often the best part of the day!
Posted 10/02/2020 06:13 PM
Linda Lee Konichek:
I love this poem, and yes, I did take Latin in high school!
Posted 10/02/2020 11:39 AM
michael escoubas:
Like this timely reminder Michael, truth in every line!
Posted 10/02/2020 09:53 AM
Larry Schug:
It goes without saying, but you said it well and I'm glad you did. The word "damn" adds so much context to the poem; amazing how much one word can say. Plus, I like poems with a little cussin" in them.
Posted 10/02/2020 08:40 AM