Maybe it was the poetry and singing,
maybe the drums and dancing,
but we are not ready for the night to end,
so head east through a darkened city

until we reach the lake and there,
floating free of tree limbs,
city lights, and rooftops,
find a full moon, white against the dark sky,
its path shimmering bright
across the still water.

We park, our shadowy figures sitting
in a darkened car on an empty street.
"Up to no good," a neighbor might say,
not noticing our age, our white hair,

but what good would it do to leave
such a sight, on such a night
until we have had our fill,

until we remember other moons
in other times and places,
singing our memories into the dark night
before turning our faces toward home.


© by Kathleen Phillips.
Used with the author's permission.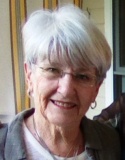 Kathleen Phillips lives in a senior residence facility in Milwaukee, Wisconsin, writing about what she sees unfolding around her and crediting curiosity as the force that keeps her going. A member of the Wisconsin Fellowship of Poets, Hartford Avenue Poets, and Sparks, Katy is the author of nearly a dozen chapbooks and her poems appear in a number of publications and in the Wisconsin Poets' Calendar. She also writes for the in-house publications where she lives and leads a writing group there. Katy's latest book is In Other Words.
Anastasia:
Such a wonderful description of these feelings!
Posted 10/05/2020 01:50 PM
Lori Levy:
Beautifully expressed.
Posted 10/03/2020 03:04 PM
Janet Leahy:
Oh the "up to no good" memories this poem lets me relive, how wonderful to find them again. Lovely poem Katy, thank you.
Posted 10/03/2020 03:03 PM
Linda Lee Konichek:
"...singing our memories into the dark night..." I love this line and the feeling of this poem!
Posted 10/03/2020 12:10 PM
TheSilverOne:
Beautiful poem!
Posted 10/03/2020 11:24 AM
paradea:
Beautiful.
Posted 10/03/2020 10:28 AM
cork:
The full moon is visible now high in the Wyoming western sky.
Posted 10/03/2020 09:34 AM
Nancy R:
Oh yes, you set the scene so well. I can visualize lake front locations where I was "up to no good" BWH (before white hair).
Posted 10/03/2020 09:17 AM
Stephen Anderson:
Yes, Kathleen, we must all learn to seize the day and to be ?up to no good? when possible.
Posted 10/03/2020 08:53 AM
Larry Schug:
I really like the "Up to no good" line. I've got gray hair, too and I'm often up to no good, which is where a lot of the fun in life lies. Also, "singing our memories into the dark night" is a great thought. song travels into the universe and so does poetry if read aloud.
Posted 10/03/2020 08:21 AM
paula:
I love the moon too. Great poem, Katy!
Posted 10/03/2020 05:07 AM