The sun sears hot this morning,
comes down hard.

At breakfast, we stop to laugh.
He laughs when I say
we need to get the ladder
to change a light bulb
when I mean he needs to.

We laugh extra as we age,
look at each other a second too long,
see our inner roulette wheels spin,
and know the one left standing
will remember this moment.

The sun sears hot this morning,
comes down hard.


From Marriage and Other Leaps of Faith (Penciled In, 2015).
Used here with permission.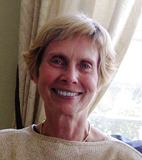 Jeanie Greensfelder is the author of three poetry collections and her work has been featured on Writers' Almanac and American Life in Poetry. A psychologist, Jeanie seeks to understand herself and others on this shared journey filled, as Joseph Campbell said, with sorrowful joys and joyful sorrows. Jeanie lives with her husband Andy in San Luis Obispo, California, where she volunteers as a bereavement counselor and where she served as the 2017-18 Poet Laureate for that city. Learn more about her at
http://jeaniegreensfelder.alhteam.com/.
Anastasia:
So lovely! And this sounds much like me and my spouse!
Posted 10/17/2020 05:26 PM
Lori Levy:
Brief but powerful.
Posted 10/09/2020 03:21 PM
paradea:
This is beautiful. "the sun...comes down hard'. So true, sometimes.
Posted 10/09/2020 01:25 PM
Linda Lee Konichek:
Brief and beautiful!
Posted 10/09/2020 12:27 PM
agreensfelder@gmail.com:
I got the ladder. Andy Greensfelder
Posted 10/09/2020 12:00 PM
Jean Colonomos-1:
I'm in step with you. A good reminder.
Posted 10/09/2020 10:58 AM
michael escoubas:
Reader's Digest has a section "Laughing is the Best Medicine," Jeanie's poem bring this out. Thank you.
Posted 10/09/2020 10:46 AM
Sharon Waller Knutson:
Love this poem and it's unique images. So much humor and wisdom in "we laugh extra" and "inner roulette wheels spin."
Posted 10/09/2020 10:18 AM
DavidTookey:
Today I turn 59. "..our inner roulette wheels..." Indeed. Wonderful poem!
Posted 10/09/2020 10:13 AM
Stephen Anderson:
Nice poem about some things in life that can be richer than imagined as we age.
Posted 10/09/2020 09:50 AM
Larry Schug:
Indeed. Savor every moment. These words are honestly touching, yet filled with so many other emotions and with truth.
Posted 10/09/2020 08:35 AM