In the English language,
the day weíre born we become old.
One hour old, a day old, thirty years old.
I like the French version much better.
Instead of saying, Iím seventy years old,
the French say, Jíai soixante-dix ans.
I have seventy years.
†
Iím not old. I have these years.
I earned them. I own them. I carry them.
Stilló
seventy years seem
to weigh much more than thirty.


© by Carroll S. Taylor.
Used here with the authorís permission.
†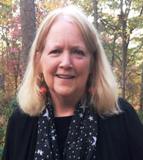 Carroll S. Taylor and her husband live in Hiawassee, Georgia. A retired educator, she is the author of two young adult novels, Chinaberry Summer and Chinaberry Summer: On the Other Side. She is also the author of a new children's book, Feannag the Crow, which teaches chldren how important it is to have friends. Carroll's novels emphasize generational storytelling and anti-bullying, and her stories and poems reflect her affection for reptiles, amphibians, spiders, and other critters. Learn more about her at chinaberrysummer.com.
Anastasia:
Well said!
Posted 10/11/2020 04:40 PM
Lori Levy:
Great perspective.
Posted 10/10/2020 04:10 PM
Maren O. Mitchell:
Congratulations, Carroll! Happy to see one of your pointed poems again! Bravo!
Posted 10/10/2020 03:59 PM
BAMars:
Yes! A new way of thinking about it for me although I studied (and am again studying) French. At 61, I will carry this view forward for a couple more decades, I hope.
Posted 10/10/2020 03:25 PM
michael escoubas:
Marvelous take on aging, Carroll--I would still rather "have" 30 years than 73!!
Posted 10/10/2020 03:07 PM
Linda Lee Konichek:
Love this1 iHAVE 79 YEARS!
Posted 10/10/2020 12:14 PM
cork:
My Spanish did not travel well, but I am in my 85th year and enjoying it.
Posted 10/10/2020 10:59 AM
cork:
?Cu??tos a?os tienes?
Posted 10/10/2020 10:55 AM
richard.cary@att.net:
Yes!!!!
Posted 10/10/2020 10:45 AM
KevinArnold:
Great fun, and a message somehow made more pressing by these times, with their vexing combination of pandemic fear and partisan turmoil.
Posted 10/10/2020 09:35 AM
paradea:
When you're young, old seems so far away, but it got here pretty quick!! Love this poem!!!
Posted 10/10/2020 09:26 AM
mail@schoolbusmart.com:
Congrats Carroll. Nice piece. I, too, prefer having years rather than years old. But, honestly, I prefer, as I'm sure everyone else would -and your silently implying- a desire to not be aging at all. Although the Peter Pan, I won't grow up, syndrome probably wouldn't fit us either. Randy
Posted 10/10/2020 09:18 AM
Sharon Waller Knutson:
Love this wise poem. The last stanza expresses exactly how I feel. I earned my seventy eight years and yes, they are heavier than 30 years.
Posted 10/10/2020 09:15 AM
Larry Schug:
Well, yeah; it's like the minute we're born we take the first step on the path to death. I'd rather see life as the French and you have decided to look at it.
Posted 10/10/2020 08:24 AM