Above the azure inlet of the sea,
the path was steep, carved out between
the thistles, thorns, and wind-blown rock.
 
He left her at the top to find a sheltered place
they wouldn't be seen descending to the shore.
She waited, fully clothed there,
till, looking down, she saw his gleaming skin
and upturned face above the churning deep,
as if he'd changed from man to seal
and loved this transformation.
 
She shed her clothes and picked her way
as far down as she could on tender feet—
then took a leap of faith, exchanging rock
for empty air, a rush of cold and bubbles
in her hair. Her toes touched seaweed
as she swam toward her selkie mate.
 
Two naked, slippery people,
seventy and sixty-five,
feeling so alive and filled with joy,
treading water side by side in the extra-salty,
turquoise blue Aegean Sea, rich in iodine,
they'd heard, with the power to heal
all kinds of wounds.
 
They tasted salt and kissed,
two shipwrecked sailors
who'd managed to survive.

From The Bus to Appolonia, forthcoming from Blue Light Press 
and co-winner of the 2020 Blue Light Press Poetry Prize.
Used here with permission.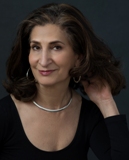 Photo credit: Laurie Bishop Bell


Barbara Quick is a novelist, journalist, and poet. Her work has appeared in many magazines and journals, including the New York Times, Newsweek, People and Ms. Barbara's newest novel, What Disappears, set in the world of the Ballets Russes, is forthcoming from Regal House; her 2007 novel, Vivaldi's Virgins (HarperCollins), thus far translated into 12 languages,is now available in audiobook format. Barbara lives on a small farm in Sonoma County, California with her husband, Wayne Roden, a violist for the San Francisco Symphony and owner of a boutique wine business. An avid dancer, hiker, and nature lover, Barbara divides her time between writing and tending to her edible gardens. Learn more about her at www.barbaraquick.com.
p>
wayne.goodling@yahoo.com:
good poem. thanks.
Posted 10/18/2020 07:17 PM
Lori Levy:
Great ending. Enjoyed the poem
Posted 10/12/2020 02:26 AM
lynda_oldham@yahoo.com:
Reminds me of my husband and I wading in the cracking cold Pacific near Tofino and how we laughed at the iciness.
Posted 10/11/2020 06:03 PM
Anastasia:
Wonderful and inspiring!
Posted 10/11/2020 04:39 PM
joecot:
Fresh as the water.
Posted 10/11/2020 01:55 PM
TheSilverOne:
Every line was pure joy! -Doris Bezio
Posted 10/11/2020 12:29 PM
Sharon Waller Knutson:
I love this picturesque powerful poem. The images and alliteration are unique: "slippery people, seventy and sixty-five," and "shipwrecked sailors who?d managed to survive."
Posted 10/11/2020 11:10 AM
Janet Leahy:
Wonderful clear visual language in this poem, love the "slippery people" "in the extra-salty turquoise blue Aegean Sea". Thanks Barbara
Posted 10/11/2020 11:02 AM
Jean Colonomos-1:
What a wonderful life dance.
Posted 10/11/2020 09:19 AM
Larry Schug:
"exchanging rock for empty air"--magnificent!
Posted 10/11/2020 07:25 AM