Little trotty wagtail he went in the rain,
And tittering, tottering sideways he ne'er got straight again,
He stooped to get a worm, and looked up to get a fly,
And then he flew away ere his feathers they were dry.

Little trotty wagtail, he waddled in the mud,
And left his little footmarks, trample where he would.
He waddled in the water-pudge, and waggle went his tail,
And chirrupt up his wings to dry upon the garden rail.

Little trotty wagtail, you nimble all about,
And in the dimpling water-pudge you waddle in and out;
Your home is nigh at hand, and in the warm pig-stye,
So, little Master Wagtail, I'll bid you a good-bye.

This poem is in the public domain.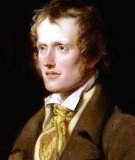 John Clare (1793 - 1864) was born to a poor, working class family in England. His life as an uneducated peasant farmer was one of constant struggle and hardships, yet his poetry is wonderfully inspiring. John was a "poetic environmentalist," in awe of the natural world, and nature is the theme of much of his work. His poetic talent earned him access to London's literary circles, though his inferior social standing kept him from ever truly joining its ranks. Tragically, John spent the last twenty years of his life in a mental asylum, though he continued to write and produce poetry that some critics laud as some of the 19th century's best work. Learn more about John Clare here.
Anastasia:
I can see this little bird, hopping about, taking care of his bird-business. John Clare is a new poet to me?thank you!
Posted 10/13/2020 09:14 PM
paradea:
Fun!!! Love all the 'new' words!!
Posted 10/12/2020 12:14 PM
Cathy's Sister:
Thank you for introducing me to John Clare! I read his bio and then checked out what a wagtail looked like. From there I discovered the wagtail in the U.K. are declining in numbers. All this education from one lovely poem!
Posted 10/12/2020 11:52 AM
DavidTookey:
I need to read more John Clare!
Posted 10/12/2020 11:03 AM
KevinArnold:
Great find. Thanks, Jayne.
Posted 10/12/2020 10:27 AM
AlmaMPesiri:
amazing info!
Posted 10/12/2020 08:56 AM
cork:
Rhyme was important in that era, and free verse was not even an idea.
Posted 10/12/2020 08:44 AM
mail@schoolbusmart.com:
Wonderful, fun, smooth piece. Once again, I appreciate reading about the poet. How interesting, and how tragic. Thank you. Randy
Posted 10/12/2020 07:49 AM