When we lift our arms
apples seem to jump to our fingers
as if squealing, Pick me! Pick me!
while we navigate among chickens
underfoot and a guard-rooster
who glares, who disapproves,
who follows our every step.

Bees from a stack of hives
hover and buzz about our ears.
Sun heats, shade cools,
the hose washes apple-skin sugar
from the flesh of our hands.

It is not toil, it is faith
as beneath our feet roots pull
nourishment from earth,
water glistens from leaf-tip
and I cry to the sky,
Pick me! Pick me!


From Foggy Dog: Poems of the Pacific Coast (CreateSpace, 2018).
This poem first appeared in Roanoke Review.
Used here with permission.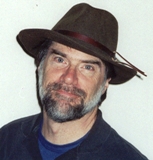 Joe Cottonwood is a semi-retired contractor with a lifetime of small jobs repairing homes. He lives with his high school sweetheart under redwoods in the Santa Cruz Mountains of California, caring for curly-haired dogs and straight-haired grandchildren. Joe's latest book is Random Saints. Learn more about him at www.joecottonwood.com.
Lori Levy:
I agree, this poem paints a beautiful picture.
Posted 10/13/2020 05:55 PM
Anastasia:
A lively word-picture! I greatly enjoyed this poem!
Posted 10/13/2020 02:08 PM
michael escoubas:
Thank you, Joe, for painting this lovely picture with words.
Posted 10/13/2020 12:52 PM
Larry Schug:
And then there comes a day when we say "don't pick me, please don't pick me". I love poems like this that elicit what might seem a contrary response, the gift of them being that they do elicit a response. I know you get it, Joe.
Posted 10/13/2020 08:52 AM
cscoville:
Sharon Waller Knutson just said it beautifully!
Posted 10/13/2020 07:54 AM
Sharon Waller Knutson:
Joe Cottonwood again proves why he is at the top of my list of favorite poets. He has turned apple picking into an adventure with chickens underfoot, a guard rooster, swarm of bees and talking apples. This is a poem I can see, feel, taste and live in.
Posted 10/13/2020 05:48 AM
KevinArnold:
Fun, twisty poem.
Posted 10/13/2020 05:45 AM