It's what they call "the awkward stage"—
that purgatory before hormones rage,
when everything's sprouting except self-esteem,
(which is hurtling downhill with a full head of steam).
Your hair's stupid, you say; you feel weird in your clothes.
You're too old for socks; you're too young for hose.
If only your body could spin a cocoon—
a safe place to hide till you feel more in tune
with all of the havoc that Nature hath wrought.
(And emerging a beauty? Now there's a nice thought!)
The best news I have is that when this has passed,
you'll stop seeing yourself as a social outcast
and rise like a phoenix from hormonal ashes
to straighten your shoulders and flutter your lashes.
The new you will light up your old mise-en-scénes
like bright morning sun lights up cold, dreary dawn.
So be patient, my dear! It won't be very long
till the "you" you don't like gets to sing her swan song.

From Dancing with My Daughter: Poems of Love, Wisdom & Dreams (Loyola Press)
Used here with the author's permission.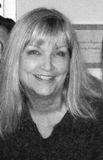 Jayne Jaudon Ferrer is the author of four books of poetry and a nonfiction books about games. A public relations specialist and freelance journalist, Ferrer speaks frequently at chuches, schools, and writing-related events. Her work has appeared in hundreds of publications, ranging from Boca Raton Magazine to Christian Parenting Today, and she is the founder and editor of YourDailyPoem.com. Originally from Florida, Jayne now lives in Greenville, South Carolina. The mother of three sons, she enjoys reading, music, old movies, and good conversation. Learn more about Jayne at www.jaynejaudonferrer.com.
jayne:
Thanks for all your kind comments!
Posted 04/29/2015 06:45 PM
transitions:
My grand daughter, not quite yet emerging as the butterfly she is certain to be...this is my sweet Abby. How I wish I could tell her all will be well ~ and this poem does that! Thanks, Jayne, perfect♡
Posted 04/29/2015 04:20 PM
Jensharpe:
Dear Jayne, I would like to thank you so much for Your Daily Poem. The poem arriving in my in box is the high point of my day I do not know how much positive feedback you get from your readers. I love the website. I particularly enjoy Todays Poem. The poem brought back Bittersweet Memories of me at age thirteen and the all encompassing urge to fit in. Thank you
Posted 04/29/2015 11:39 AM
rtaylor947@aol.com:
Wow. This is so true, and with such skillful use of meter and rhyme. Brava, Jane.
Posted 04/29/2015 10:12 AM
barbsteff:
Love the line about wishing to spin a cocoon and hide for the duration. I wouldn't have had words for it at the time, but that's how I felt. Also poem shows a skillfully used form.
Posted 04/29/2015 09:52 AM
nscott29@aol.com:
Love the poem. I think the hormones rage even younger these days. My eleven-year-old granddaughter is already in the fits of crying stage.
Posted 04/29/2015 07:43 AM
mimi:
ah yes, those were the days (NOT!)
Posted 04/29/2015 07:17 AM
Stephen Anderson:
Advice that I wish I would have given to my two daughters but couldn't. Wish I'd had your poem around that time.
Posted 04/29/2015 06:46 AM
phebe.davidson@gmail.com:
Thank you for this! It is something much needed this otherwise dreary morning.
Posted 04/29/2015 06:05 AM
rhonasheridan:
Oh dear! I remember it well!!
Posted 04/29/2015 04:57 AM