I hope heaven smells like
Rain on dirt
She said
And in my head were released
Memories of freshness
Rain and dirt
Mixing mud
Making new life
As it was "In the Beginning"

A scent that fills the
Senses
With the closeness of heaven
Telling its own version
Of the conversion of
Dust into life  

Only in the distance
Its scent a mixture
of the mud

Made by droplets of
Lifeblood
Sparse in parts of
Mother earth

As foretold
A day of rain
is coming


© by David Walker.
Used here with the author's permission.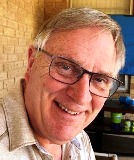 David Walker is a semi-retired broadcast journalist and radio station owner. Now a disabled veteran, he gave up a journalism scholarship to volunteer for service in the army in 1972, right out of high school. David says he has written poetry all of his life, but rarely ever shared it with anyone because "West Texas farm boys play football, we hunt, some join the army, but none of us write poetry... except me." Currently, he is working on an MFA at Texas Tech University where he earned his undergraduate degree in Journalism after leaving the army. David has been married for almost 50 years "to the love of my life;" he and his wife live in Lubbock, Texas and have four children and seven grandchildren scattered across the country.
KevinArnold:
So many warnings around us . . .
Posted 10/19/2020 04:53 PM
Lori Levy:
The title and first line pull me into the poem. Provocative.
Posted 10/17/2020 04:37 PM
Anastasia:
Lovely and refreshing!
Posted 10/17/2020 12:59 PM
Jancan:
Lovely, appealing spiritual piece--so descriptive
Posted 10/17/2020 09:38 AM
VickieL:
Love this, and I hope heaven does smell like rain on dirt!
Posted 10/17/2020 09:21 AM
Jean Colonomos-1:
Thanks for this perfumed scent.
Posted 10/17/2020 09:17 AM
paradea:
Beautiful!
Posted 10/17/2020 09:03 AM
Sharon Waller Knutson:
I was intrigued by this delightful poem from the title, Rain on Dirt Rain on Rain to the end. My favorite line was I hope heaven smells like Rain on dirt. I can see, smell, feel and walk in this poem.
Posted 10/17/2020 09:02 AM
Larry Schug:
I was hooked at the first two lines. This poem takes me away to another place.
Posted 10/17/2020 07:44 AM