Does the road wind up-hill all the way?
    Yes, to the very end.
Will the day's journey take the whole long day?
    From morn to night, my friend.

But is there for the night a resting-place?
    A roof for when the slow dark hours begin.
May not the darkness hide it from my face?
    You cannot miss that inn.

Shall I meet other wayfarers at night?
    Those who have gone before.
Then must I knock, or call when just in sight?
    They will not keep you standing at that door.

Shall I find comfort, travel-sore and weak?
    Of labour you shall find the sum.
Will there be beds for me and all who seek?
    Yea, beds for all who come.


This poem is in the public domain.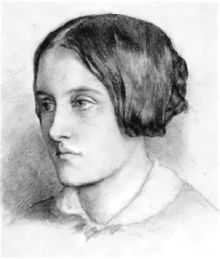 Christina Rossetti (1830 - 1894) was born in England to a family of great literary and artistic talent. A beauty who frequently modeled for her brother Dante and other respected artists of her day, Christina began writing as a child and published her first poem at eighteen. A kind-hearted woman who spent many years as a charity volunteer, Christina's devout faith was often a central theme in the three books of poetry and four books of devotions she wrote during her life. Though her poems show up consistently in contemporary films, television shows, and musical compositions, her most familiar work is "In the Bleak Midwinter," which, when set to music, became a beloved Christmas carol.
Anastasia:
A wonderful choice for today. Thank you, Jayne!
Posted 10/17/2020 01:00 PM
KevinArnold:
Great find. Thanks, Jayne.
Posted 10/16/2020 06:33 PM
SAR2126:
I think I would title this "Reassurance." It's lovely.
Posted 10/16/2020 10:40 AM
michael escoubas:
A perfect poem for the day AND for the times. This is what excellent poetry is for, it seems to me.
Posted 10/16/2020 10:14 AM
paradea:
Love this poem!!!
Posted 10/16/2020 10:00 AM
Paulie Walnuts:
It's rare that a poem is so delightful when read metaphorically and literally. There's nothing like the relief of reaching that haven at day's end after a long day of toil.
Posted 10/16/2020 09:54 AM
Larry Schug:
One foot before the other,we all climb that hill. I love poems that ask questions. They spur the reader into contemplation. This poem seems quite up to date with its language.
Posted 10/16/2020 07:57 AM