Two bars of soap rest in a china dish
beside my bathroom sink, the first things
I greet every morning, a green one
and a white one. I wonder what
will happen to them if I die first,
before I use them up,
before they become slivers
and slip down the drain.

In the 1970's, hand-made soap
was in fashion. The scent, the color
attracted me. I bought, and bought.
Now I store them, a bag of bars
beneath the sink.

If I die first, use them, smell them.
As you scrub, take your time.
Let memories wash over you.

Don't throw them away.

© by Ann Buxie.
Used here with the author's permission.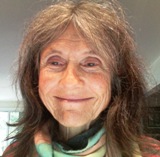 Ann Buxie was raised in Yuma, Arizona but now lives in Malibu, California. Host since 1995 of "Tales by the Sea," a storytelling concert series for grown-ups, Ann says she is dedicated to storytelling and poetry as a way to fulfill her duty as a human.
Jancan:
This is a lovely, thoughtful, and thought-provoking piece. It resonates with me.
Posted 10/17/2020 09:41 AM
Paulie Walnuts:
@finney Let your favorite things go with you. Your children, and their children after them, will have their own relics to cherish.
Posted 10/16/2020 12:56 PM
finney@charter.net:
Speaks to me at this stage in my life as I look around wondering what will happen to all these things I treasure. I need to find someone to love them before I?m gone.
Posted 10/15/2020 08:31 PM
Lori Levy:
Beautiful and unusual perspective on soap.
Posted 10/15/2020 03:15 PM
michael escoubas:
I'm feeling cleaner already, Ann!
Posted 10/15/2020 02:43 PM
Anastasia:
The last lines were unexpected, and quite moving. Thank you!
Posted 10/15/2020 01:01 PM
Lindagolden:
Thank you for sharing your work Miss you I too am a bar of soap person I now have another layer to add To my ritual ❤️Linda
Posted 10/15/2020 12:32 PM
Jean Colonomos-1:
Yay, Ann Buxie. Yay, celebrating life through the soap metaphor and finding a poetic approach to washing my hands.
Posted 10/15/2020 10:52 AM
Paulie Walnuts:
I like that Ann juxtaposes one's memories with bars of soap. They start out fresh and clean when they're made during adulthood, but slowly shrink as they're used. First the bar loses its details, then it loses its shape, before eventually fading as if it had never existed at all. Only clean hands, at once made dirty again, evince its former existence.
Posted 10/15/2020 10:34 AM
paradea:
I like this poem!!
Posted 10/15/2020 09:51 AM
cork:
My wife does not like my Irish Spring.
Posted 10/15/2020 09:00 AM
Larry Schug:
I've often think about what people will leave behind, myself included. This poem strikes home.
Posted 10/15/2020 06:49 AM