†
†
†
Isnít it strange some people make
You feel so tired inside,
Your thoughts begin to shrivel up
Like leaves all brown and dried!
But when youíre with some other ones,
Itís stranger still to find
Your thoughts as thick as fireflies
All shiny in your mind!
This poem is in the public domain.
†
†
†
†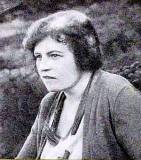 Rachel Field (1894 - 1942) was a novelist, children's book author, playwright, and poet. Born in New York City, she was the first woman to win the Newbery Award for outstanding children?s fiction. Rachel?s best-known work was probably her novel, All This And Heaven Too, which was made into a film starring Bette Davis.
†
†
Dorcas:
True to the core
Posted 05/01/2015 08:33 PM
Checker:
Oh, but everyone's lovable in their own pretty way. Ha! Maybe I say that because I'm to be put in the first group.
Posted 05/01/2015 03:18 PM
transitions:
Yes, you can almost feel your mind yawn with the first ~ and 'run the race' with the second :)
Posted 05/01/2015 11:49 AM
lincolnhartford:
Oh but most of us vary by the season, the day, hour,and wish we were one thing, but then we would be like that perfect lawn.
Posted 05/01/2015 10:11 AM
Cindy:
Yes! I know both kinds.
Posted 05/01/2015 08:27 AM
r1manchester:
so well said!
Posted 05/01/2015 04:34 AM
KevinArnold:
Brevity, robust rhymes, solid thought. What's to not like?
Posted 04/30/2015 11:48 PM