Leave the binoculars behind.
What good has bringing birds closer
brought them, anyway?

Let species spring
unidentified branch
to branch

and catapult
into the scrambled alphabet
of clouds.

Let wings alone
be sufficient, a glint of indigo,
dusk's fluted calling

spiraling to earth
like a handful of leaves,
the feathered thing before you.

May the names of all thirty-six warblers
—if you ever had them—
be the first to go.

May nothing fly from
the field guide of your mind
when iridescent emerald zipping

zips by a Kool-aid-red feeder
hooked like bait
on the neighbor's gutter.

May you hover sipping nectar
from scarlet trumpets mid-flight
in nobody's garden.
This poem first appeared in the Edison Literary Review.
Used here with the author's permission.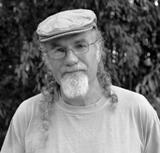 John Smith is a retired high school English teacher whose work has appeared in NJ Audubon since the 1980s and in numerous other literary magazines and anthologies. His poem, "Lived Like a Saint," was set to music by Philadelphia composer Tina Davidson, as part of a choral work, "Listening to the Earth," commissioned by the New Jersey Parks Commission. Another poem, "Birding," was commissioned by New Jersey Audubon for their centennial. In addition to poetry, John enjoys writing, cooking, gardening, and keeping an eye on the birds.
paradea:
Just lovely!!
Posted 05/02/2015 09:14 AM
Cindy:
I like that "scrambled alphabet of clouds" phrase too. Nice poem.
Posted 05/02/2015 08:06 AM
paula:
Wonderful. I love the language of praise.
Posted 05/02/2015 06:46 AM
laurasalas:
Oh, I adore this poem. I am a big believer in being able to be awed and entertained by parts of our world without feeling compelled to know all about them or become experts on them. (It's fine if you WANT to, of course, but this poem captures how I am as I enjoy birds--mesmerized and ignorant!)
Posted 05/02/2015 06:31 AM
mimi:
oops...I meant BIRDERS, not birdes...
Posted 05/02/2015 06:30 AM
mimi:
I know quite a few birdes would benefit from this good poem! thanks!
Posted 05/02/2015 06:29 AM