Today my daughter made up a word,
effluctress,to explain why I couldn't see
the rainbow bird outside the window.
Effluctress, she says, are things
that can only be seen by 4-year olds,
soda trees, people with wings,
trains that turn into trucks and drive away.
Not the first words she has made up,
for sure, but the first to contradict
what the world tells her can't be,
dragons and dinosaurs, blueberry towns,
her grandma sitting beside her.

From Paternity (Main Street Rag, 2010)
This poem also appeared in Scythe Literary Journal, Volume 1.
Used here with the author's permission.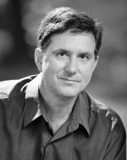 Originally from Greenwood, SC, Scott Owens holds degrees from Ohio University, UNC Charlotte, and UNC Greensboro. He currently lives in Hickory, NC, where he teaches at Catawba Valley Community College, edits Wild Goose Poetry Review, serves as vice-president of the NC Poetry Society and regional representative of the NC Writers Network, and is coordinator of Poetry Hickory. Scott also owns and operates Taste Full of Beans Coffeehouse and Gallery.
Sherry:
Wonderful! The last line is amazing and heartbreaking. I have a four-year-old granddaughter who lives in Hickory.
Posted 05/26/2015 11:09 AM
Dorcas:
Full of the wonder I have forgotten.
Posted 05/04/2015 05:07 PM
transitions:
Grandma loves it and me too ♡
Posted 05/03/2015 08:50 PM
rtaylor947@aol.com:
One of my favorite Scott Owens poems from my favorite Scott Owens book.
Posted 05/03/2015 12:55 PM
erinsnana:
Very sweet!
Posted 05/03/2015 12:14 PM
hujsaked@aol.com:
Dow! (dow means yes) ....And deliver us from eagles, amen.
Posted 05/03/2015 08:41 AM
Cindy:
I love this child and hope she is not made up by the poet!
Posted 05/03/2015 08:35 AM
Larry Schug:
I wonder what makes many of us lose sight of these things. Just because we no longer see them doesn't mean they are not there. Grandma certainly is.
Posted 05/03/2015 08:23 AM
mimi:
poignant and sweet..
Posted 05/03/2015 08:11 AM
bbatcher:
Wow! That last line! I wasn't expecting that. It's perfect.
Posted 05/03/2015 07:27 AM
paula:
I work with 3 and 4 yr. olds. They are remarkable people. Your poem is a touching credit to them and to Grandma.
Posted 05/03/2015 06:55 AM