On an early evening paddle
timed perfectly
for sightings of beaver,
I point my kayak
toward a large tandem lodge,
slowly circle around it,
then sitting perfectly still,
my camera poised for action,
I wait for the loud signature
smack-splash of tail
or glimpse of a small bobbing head
with beady eyes
and shiny black nose.
Overfocused on these creatures,
I almost miss
what I wasn't looking for,
floating
just beneath the sunlit surface,
chomped-off
gold and brown discarded branches,
with two dangling red-orange leaves
waving in the glistening abstraction
of watery distortion.
Taken aback,
I snap a picture
   of what I only saw
        after taking my eyes
                  off what I'd assumed
                                               was the prize.


From a forthcoming collection, Dual Impressions.
Used here with permission.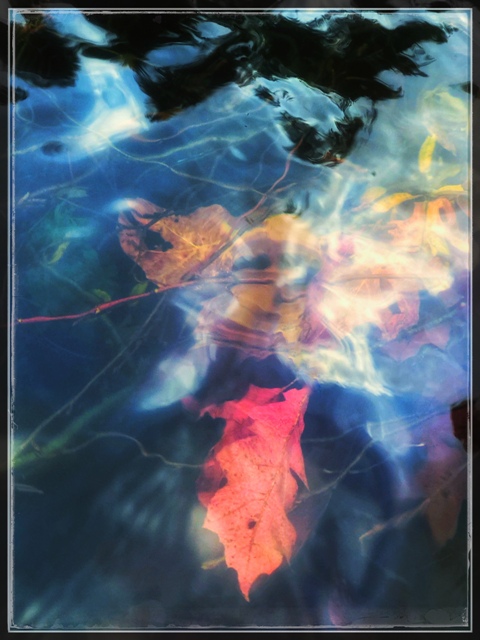 Photo credit: Joan Kantor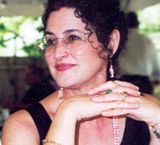 Joan Kantor lives with her husband in Collinsville, Connecticut. A college counselor and learning disabilities specialist for many years, Joan also has training in education and marriage and family therapy. Active in a number of poetry outreach efforts, she is a member of the International Academy for Poetry Therapy and collaborates with both visual artists and musicians in Stringing Words Together, an interactive program of poetry and violin music. Her most recent chapbook is Too Close For Comfort (Aldrich Press).
jennath:
I love the vivid descriptions and overall message of this poem! Can't be too focused or you might miss the good stuff.
Posted 11/08/2020 06:08 PM
Lori Levy:
The poem goes perfectly with the photo.
Posted 11/06/2020 07:25 PM
Stephen Anderson:
You did not miss a surprise of Nature with this one, Joan! Very nice turn of events ending.
Posted 11/06/2020 07:01 PM
Anastasia:
The perfect photo to go with this poem, and a good reminder for all of us.
Posted 11/06/2020 03:58 PM
wayne.goodling@yahoo.com:
the image pulled me into the place. Thank you.
Posted 11/06/2020 03:19 PM
A Jenkin:
Thank you for sharing your poem about beavers. We don't have them here in my part of the UK, so your images really brought these beavers to life.
Posted 11/06/2020 02:28 PM
Janet Leahy:
Overfocused is the perfect word in this poem, sometimes in our lives we miss the beauty all around us. Wonderful closing lines.
Posted 11/06/2020 09:45 AM
cork:
Beavers build!
Posted 11/06/2020 09:06 AM
KevinArnold:
The multimedia aspect, the photograph, adds to the allure here, but even without it, a very fine poem. Good work.
Posted 11/06/2020 08:51 AM
Jancan:
Lovely, descriptive poem about the scene almost missed
Posted 11/06/2020 08:13 AM
Larry Schug:
A picture may be worth a thousand words. This photo certainly is, but the far fewer than thousand word poem captures a thousand pictures.
Posted 11/06/2020 07:50 AM
Sharon Waller Knutson:
I love this picturesque powerful poem that shows me that sometimes we find that what we are not expecting is even more beautiful than what we are looking for no matter what it is.
Posted 11/06/2020 07:47 AM
DavidTookey:
Beautiful poem and image. Well done!
Posted 11/06/2020 07:41 AM