Onions in gold shrouds,
bulbous buttercup squash
lie silent in the shed.
Garden beds have been cleared
of tomatoes, peppers, beans,
produce canned, frozen, dried
to feed us this winter.
 
I milk morning glory husks,
save the hard, black seeds,
let some fall on purpose—
a guarantee of blooms next year.
Hollyhocks hold their future
in strange round bins
reminiscent of UFOs.
They fly everywhere in a mass campaign
to propagate whatever planet they land on.
 
I'd like to forget about growing food,
live the rest of my life surrounded
by tall spires of pink petticoats
flirting with the sun.


© by Jan Chronister.
Used with the author's permission.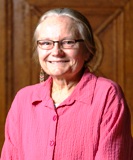 Jan Chronister, a retired teacher of English and Creative Writing, lives in the woods near Maple, Wisconsin. The author of three chapbooks and two full-length poetry collections, she is serving as president of the Wisconsin Fellowship of Poets from 2015-2021. Learn more about Jan at www.janchronisterpoetry.wordpress.com.
Jancan:
Vividly descriptive, appealing piece
Posted 11/10/2020 05:50 PM
Sharon Waller Knutson:
I love the picturesque images in this poem. My favorites are: Onions in gold shrouds, bulbous buttercup squash and pink petticoats flirting with the sun.
Posted 11/08/2020 01:04 PM
Lori Levy:
Especially like the last stanza.
Posted 11/07/2020 06:18 PM
Arlene Gay Levine:
Wisdom, charm and gorgeous images -- "tall spires of pink petticoats flirting with the sun"...from one gardener to another, I applaud you, Jan!
Posted 11/07/2020 11:40 AM
wayne.goodling@yahoo.com:
nice images that I can understand.
Posted 11/07/2020 10:47 AM
paradea:
Good one!
Posted 11/07/2020 09:33 AM
cork:
The hollyhock seed pods fascinated me as a child as I punched holes in the ground.
Posted 11/07/2020 09:30 AM
njc:
Yes! Thank you Jan for giving us permission to let flowers fill the gardens of our dreams as we go into winter. Bring on the seed catalogs!
Posted 11/07/2020 09:30 AM
SaraS:
Love your garden poems!
Posted 11/07/2020 08:16 AM
Larry Schug:
The end of the garden brings a nostalgic feeling, a kind of sigh, that is nicely expressed in these lines.
Posted 11/07/2020 07:56 AM