when the Coffee Hound's drink list reads
20-Below Zero White Chocolate,Trout Slayer
Camel Spit, Moose Drool and Peppermint Cowboy
When the owner's teenage daughter
says at the drive-up window
Hello, can your dog have a treat
And the chipped enamel coffee cup
like your grandfather had on the farm
serves as a tip jar

If you want a bit of adventure you could have
vicarious sips of Crocodile Hunter, Chocolate Fit
Dangerously Red, Drop Kill Murphy's Irish Cream
Spider Woman or Big Bad Wolf
But mostly you want to sit at the only table
and recover from California with an espresso
Gaze at the refrigerator, the shelves of bottles
holding an inventory of essences that would make
the Starbucks siren fume red

You're sure dust on the knick-knack shelf
reflects respect for the earth that has grown wheat
barley and hay for over a century
A framed cartoon of a dog hot-tubbing
in a coffee cup reigns over the table
Above which a few vintage Coffee Hound cups    
hang on hooks that might be for sale
but only to customers who fall in love with the place

Bob, Paul and Linda stand
at the bar every morning and shoot the bull
From behind the counter the owner says
Hi Steve, how's it go'n
Laughs take up residence here
You fall under the spell cast by a plaque
on the wall saying Because Nice Matters

Until you look out the window straight into
a bullet hole at eye level  
You know you're in Montana
when you drive 30 miles back the next day
for one of those vintage cups


From Trio: Poetrylandia 4 (Wapshott Press, 2020).
Used here with permission.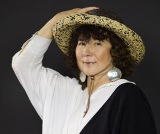 Photo by Alexis Rhone Fancher
Ellaraine Lockie is widely published and awarded as a poet, nonfiction book author, and essayist. Her work has found its way onto broadsides, buses, rented cars, bicycles, cabins, greeting cards, key chains, bookmarks, mugs, coffee sack labels, church bulletins, radio shows and cable TV. Ellaraine teaches writing workshops and serves as Poetry Editor for the lifestyles magazine, Lilipoh. She is also a professional papermaker and creates "pollages", which reflect her loves of papermaking, poetry, and collage. Ellaraine's latest book of poetry is Trio, which she co-authored with Connie Post and Karla Huston; her kitchen companion/cookbook for the lactose intolerant is forthcoming from St. Johann Press.
Alexis Rhone Fancher:
Evocative, lovely poem. Ellaraine Lockie is the real deal. She makes Montana alive for all of us.
Posted 11/09/2020 10:49 AM
Shoshauna Shy:
Rainy, I love your Montana. You bring it all alive for me every time!
Posted 11/08/2020 10:51 PM
Lori Levy:
This poem brings Montana alive for me!
Posted 11/08/2020 06:47 PM
michael escoubas:
Congratulations, Ellaraine!! I've been to Montana . . . and once is not enough to take in all this gorgeous state has to offer.
Posted 11/08/2020 05:41 PM
Sharon Waller Knutson:
Since I grew up in Montana, and love and miss Big Sky country, I absolutely love this poem. The images that especially stood out were: 20-Below Zero White Chocolate, Trout Slayer Camel Spit, Moose Drool and Peppermint Cowboy and can your dog have a treat?
Posted 11/08/2020 04:39 PM
Ron Stewart:
Definitely makes me want to visit.
Posted 11/08/2020 09:29 AM
Larry Schug:
Because I'm thinking of a friend with a terminal illness, "dust on the knick-knack shelf reflects respect for the earth" today seems to be a metaphor for the dust we ourselves leave on the shelves of others memories. Good work that creates an entire chapter in a longer story with few words, introduces characters I'd like to know better. Get on that novel, Ellaraine Locki, a name that is a poem unto itself.
Posted 11/08/2020 08:31 AM
Gilbert Allen:
Nice poem, Ellaraine! My wife and I were planning to visit Glacier National Park in August, but the pandemic got in the way. Maybe in 2021 . . .
Posted 11/08/2020 07:49 AM