Tacoma Washington rains
a foggy mist I breathe
in cadence
with soft whispers
of Puget Sound surf
heard front row center
sitting on this sand-locked log  
all to myself at Owen Beach.
 
Seeking similes for birds
behaving like birds
as I float a morning prayer
toward the Tahlequah ferry
crossing for Vashon Island
from Point Defiance Park
sailing the horizon between
gray water and gray sky.


This poem first appeared in Parks & Points & Poetry (April 2020).
Used here with permission.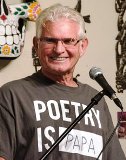 Carl "Papa" Palmer lives in University Place, Washington now, but grew up on Old Mill Road (the name of his latest book) in Ridgeway, Virginia. Retired from the military and the Federal Aviation Administration (FAA), he enjoys being a Franciscan Hospice volunteer and being "Papa" to his grand descendants. Carl is the author of six chapbooks and his work has been published in more than 200 journals around the world. His motto is "Long Weekends Forever!"
agplayer2000:
I feel I can see and smell a very beautiful beach. A poem that took me to a place I would love to be their now. A short poem with so much beauty. I hope this poet sends us more to live for and enjoy the written words of a beautiful world.
Posted 11/17/2020 09:25 AM
Jancan:
Lovely piece conveying the message that grayness and fog aren't all bad!
Posted 11/17/2020 09:20 AM
Anastasia:
This poem took me to that beach, and I do wish I were there!
Posted 11/16/2020 01:26 PM
TheSilverOne:
I've never been there, but now I feel I have.
Posted 11/16/2020 10:54 AM
Lori Levy:
A soothing poem.
Posted 11/15/2020 05:26 PM
Mama Goose:
Reaches to the heart of a contemplative mind. It is smooth as silk.
Posted 11/15/2020 01:15 PM
wayne.goodling@yahoo.com:
thank you. you took me there visually.
Posted 11/15/2020 12:40 PM
Sharon Waller Knutson:
This picturesque poem brings back memories of living in Tacoma in the sixties. I loved this image: Tacoma Washington rains a foggy mist I breathe in cadence with soft whispers of Puget Sound surf.
Posted 11/15/2020 10:28 AM
michael escoubas:
Like the way Carl puts me at one both with myself and with the natural world.
Posted 11/15/2020 09:15 AM
Larry Schug:
An "in the now" moment painted with words.
Posted 11/15/2020 07:12 AM