Mailing lists are odious things.
I seem to be on several.
I donít know how my name got on
And get it off, I neveríll.


First published in the United States under the title, Out to Pasture, by Effie Leland Wilder.
Text Copyright © 1995 by Effie Leland Wilder.
Published by arrangement with Peachtree Publishing Company, Inc.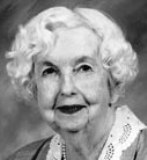 Effie Leland Wilder (1909 - 2007) was born in Rockingham, North Carolina, but lived in Summerville, South Carolina for most of her life. A graduate of Converse College, she married and raised a family, then published her first novel at the age of 85. She went on to write four more. Effie was awarded South Carolina's prestigious Order of the Palmetto in recognition of her philanthropic work with the Red Cross, several libraries, and Meals on Wheels.
TheSilverOne:
Enjoyed this humorous poem and relate!..First book at 85...encouraging and inspiring!
Posted 11/20/2020 10:45 PM
carlpalmer:
Some of my favorite poets write like they talk. I could tell right away Effie's from South Carolina.
Posted 11/19/2020 02:57 PM
Mama Goose:
I like her rhyme and her bio is an inspiration. I published my historical novel at 80 years and my parody on nursery rhymes at 87. I thought that was all, but Effie shows there is always one more to go. May she have her peace now. (^_^)
Posted 11/19/2020 12:29 PM
Jean Colonomos-1:
Yes Effie, it's like a paper hurricane has hit our mailboxes.
Posted 11/19/2020 10:06 AM
michael escoubas:
Well done, Effie--would love to have met you!
Posted 11/19/2020 09:37 AM
KevinArnold:
Great fun. If the English language doesn?t present a proper rhyme, make one up! Yes, Larry, another exclamation point.
Posted 11/19/2020 09:13 AM
cork:
What a beautiful forced rhyme!
Posted 11/19/2020 09:04 AM
Sharon Waller Knutson:
Sounds familiar. We don't get anything but junk mail in our PO box now that no one writes snail mail letters anymore. The landline seems clogged with robo calls. Don't know where the scammers and advertisers even get our name.
Posted 11/19/2020 08:29 AM
Larry Schug:
Perfect! Deserves all the exclamation points it getting this morning!
Posted 11/19/2020 07:57 AM
paradea:
Hahahahahaha!! Awesome!!!
Posted 11/19/2020 07:37 AM
Pat Brisson:
I love this clever poem! It provided a welcome laugh on a cold morning.
Posted 11/19/2020 07:28 AM